Delicious Carrot Cake Recipe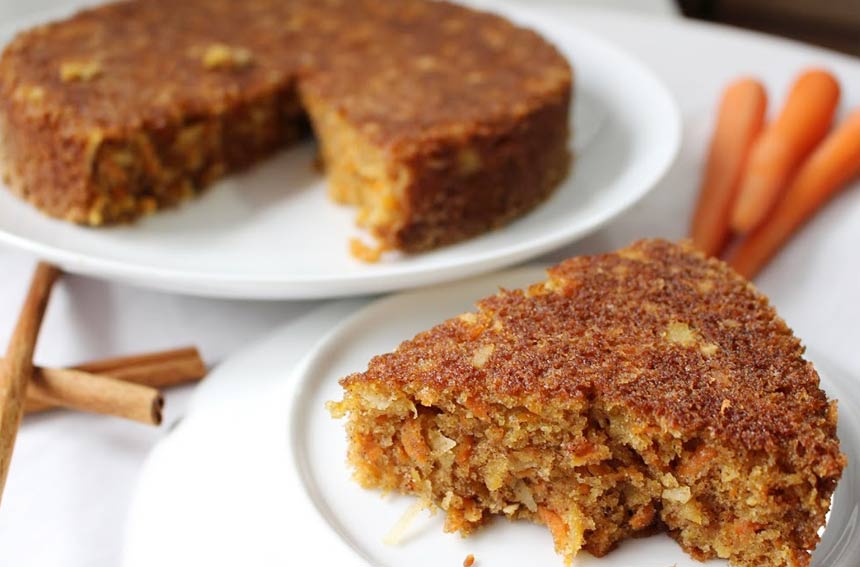 Source: Youtube.com
Carrot Cake is a soft, moist, and delicious cake which is perfect for any special occasion. This cake has a sweet and crunchy taste of carrots and perfect snack for your kid's. Once you prepare this cake you cannot resist yourself eating. Let's follow this easy and soft cake recipe.
Ingredients
2 cupsgrated carrot
1 1/2 cupswhole wheat flour (gehun ka atta)
1 tspcinnamon (dalchini) powder
1/2 tspnutmeg (jaiphal) powder
1/2 tspbaking powder
1/2 cupbutter
3/4 cupgrated jaggery (gur)
1/2 cupof milk
Directions
In a bowl, sieve the whole wheat flour, cinnamon powder, nutmeg powder and baking powder and keep it aside.
In a non-stick pan, add the butter, jaggery and milk, mix it well and cook on a low flame for 2 minutes and stir continuously and once done, switch off the flame.
In a bowl, add the butter- jaggery mixture, flour mixture and grated carrots and mix it well with the help of a spatula.
Grease a 175mm. (7") diameter cake tin with melted butter and dust it with whole wheat flour and pour the prepared mixture into it and spread it evenly with a spatula.
Bake in a preheated oven at 180°c (360°f) for 1 hour and once done, remove from the oven and cool on a wire rack.
De-mold and cut into pieces and serve it or store in an airtight container and enjoy whenever you want to.
Note: If you want, you can use sugar instead of jaggery.
Nutrient Values Per Piece
Energy: 75 cal
Protein: 1.1 g
Carbohydrates: 10.1 g
Fiber: 0.5 g
Fat: 3.3 g
Cholestero: 0 mg
Vitamin A: 260.6 mg
Vitamin B1: 0 mg
Vitamin B2: 0 mg
Vitamin B3: 0.3 mg
Vitamin C: 0.3 mg
Folic Acid: 3.7 mg
Calcium: 21.6 mg
Iron: 0.5 mg
Magnesium: 0 mg
Phosphorus: 0 mg
Sodium: 34 mg
Potassium: 33.9 mg
Zinc: 0.2 mg
By Meghna Nath
This Recipe Rate :
(0) Reviews