Delicious Egg Pulao Recipe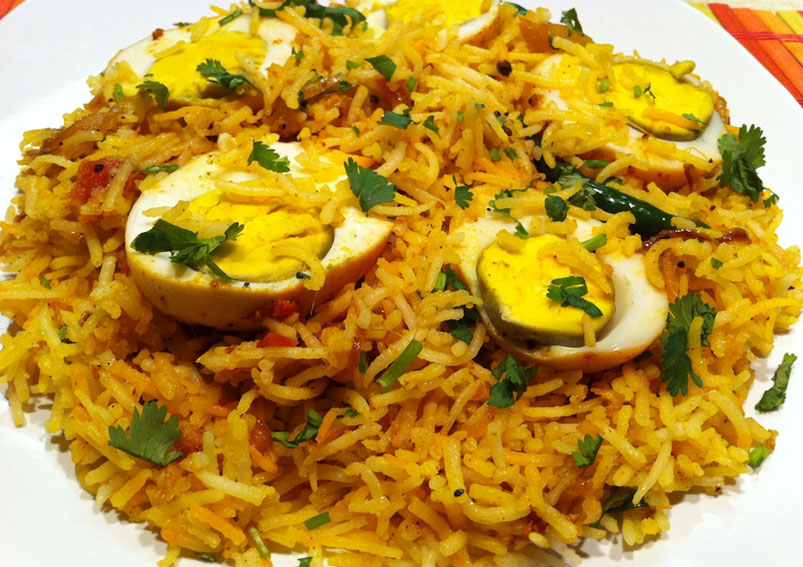 Egg Pulao is the recipe made with eggs and Basmati rice. Here Fragrant basmati rice are cooked with egg and spices. It is a comfort food to have at lunch time that combines the taste of eggs and rice with a onion and tomato gravy.
Ingredients
2 cupsBasmati rice
2 or 3Eggs
2 tblspGhee/ Butter/ Oil
1/4Onion (Sliced)
5Green Chillies (Slitted)
1 small sizeTomato (chopped)
1+1/2 tspGinger Garlic Paste
1+1/2 tspWhole garam masala
as per tasteSalt
3 cupsWater
for garnishCilantro
Directions
Heat the ghee or oil in a pan and add the whole garam masala.
Add onions, ginger garlic paste, tomato, green chilli and salt.
Saute for few minutes
Break the eggs and add it with the above mixture.
Simmer for 2-3 minutes until the eggs to cook, scramble it and add water.
At the time of boiling, add the soaked rice and let it cook on low flame.
Finally, garnish with cilantro and serve with any curry.
Pulao is different than biryani. Pulao Recipe doesn't need much ingredients than biryani also does not take much time to cook.
For more Lunch recipes check yummyfoodrecipes.
- Mayuka
This Recipe Rate :
(0) Reviews