Kallappam Recipe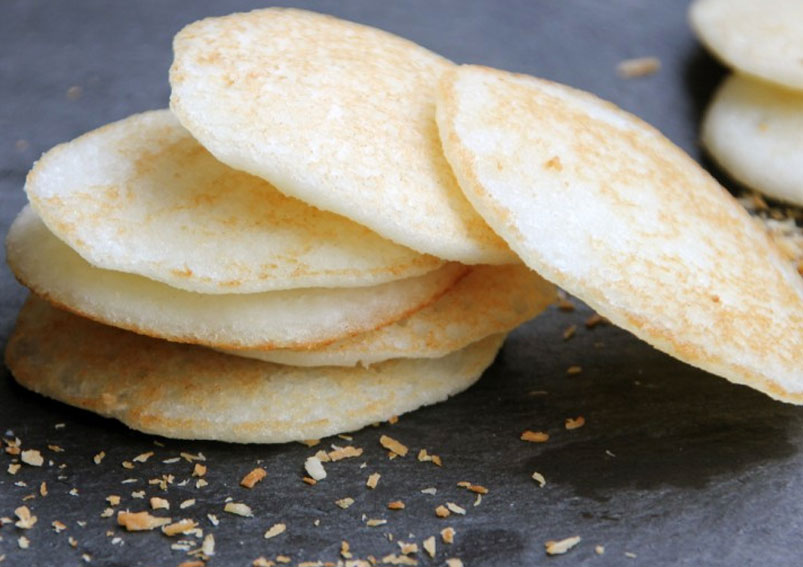 Kallappam is one of the most popular breakfast dish for Kerala people. These kallappam are known as "appams". Appam made with kallu(toddy) or yeast. Kallappams are soft and is a good combination with some spicy chicken curry. People also call this appam as 'vellayappam' too. Anyways the best name to this appam is kallappam. Check out the Kallappam recipe
Ingredients
500 gRaw rice
2 gYeast
50 g or to tasteSugar
to tasteSalt
1Coconut
5 gCumin
10Small onions (sliced)
2 sprigsCurry leaves (chopped)
5 clovesGarlic (crushed)
20 mlCoconut oil
Directions
Soak rice in water for 30-45 minutes. After soaking, strain the water.
Grind the soaked raw rice to a smooth paste. The consistency should be thick.
Dilute the yeast in 10 g of sugar and 15 ml Luke warm water and mix it to the previous batter.
Mix a pinch of sugar and salt to the batter and keep aside for 6 to 8 hours to ferment.
Mix the grated coconut, garlic, curry leaves, sliced onion and check for salt and sugar.
Keep aside for another half an hour.
Heat dosa pan, greeze with oil, and pour one ladle full of batter and cook for a min in low fire.
Turn it and cook till it gets golden brown color.
Sprinkling a few drops of ghee before serving that added the taste and flavor.
Now, Appam is ready to serve with any chutney or curry. Am sure people would love the taste of kerala dish 'Appam'. If you don't like to prepare with kallu, you can make this kallappam with yeast.
Check for more recipe dishes in Kerala Special Recipes.
- Mayuka
This Recipe Rate :
(0) Reviews