Tasty Ven pongal Recipe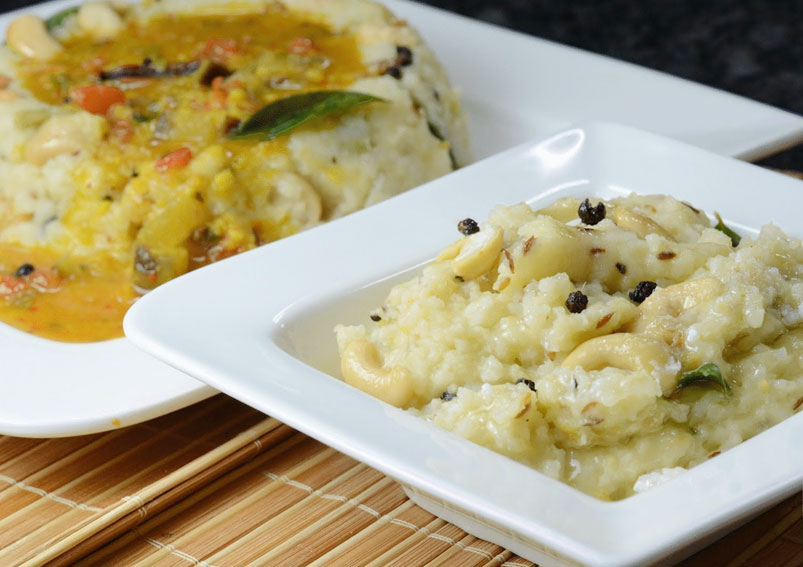 Ven Pongal or ghee pongal is the most simplest and easiest breakfast recipe and is very famous in Tamilnadu. Making pongal at home is so easy and will complete in just 2 steps, Cook rice and dal and then seasoning.
Here is a step by step procedure of a Ven pongal recipe.
Ingredients
1 cupRaw rice
3/4 cupGreen gram dal
a pinchAsaefoetida
to tasteSalt
1 pieceGinger (grated)
5 cupsWater
For tempering:
1 tspCumin seeds
1 tspWhole black pepper
6-7Curry leaves
2-3 tbsGhee
6-7Cashew nuts
Directions
Soak rice and dal in 5-6 cups of water for about 10 minutes.
Add required salt, ginger and asaefoetida to rice mixture and keep in pressure cooker for 3-4 whistles.
Heat ghee in a pan, add cumin seeds, black pepper, curry leaves and fry it till it get brown.
Add this to the cooked rice-dal mixture after the pressure is released.
Fry cashews in ghee and add that too in the above mixture.
Mix everything evenly.
Ven Pongal rice is ready to serve.
Have Ven pongal dish with the combination of hot sambhar, coconut chutney and vadai.
[Check for more Tamilnadu style of recipes]
- Mayuka
This Recipe Rate :
(0) Reviews