Chicken Malai Spicy Kabab Recipe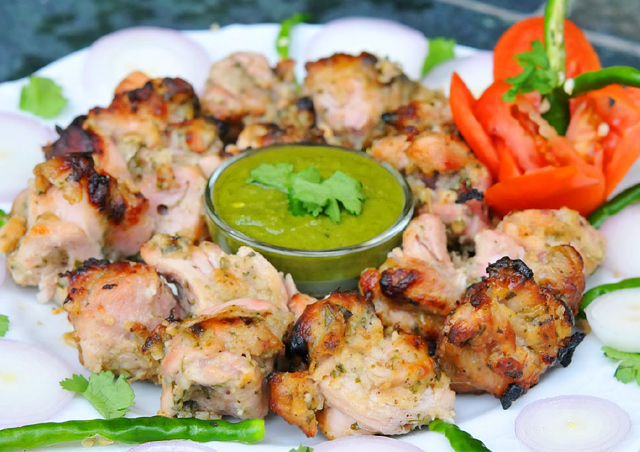 Chicken Malai Spicy Kabab is a special occasional party recipe. These kababs are slightly cheese, cream and ginger garlic paste flavored. These kababs are very smooth and easy to prepare.
Let's read about how to prepare this special recipe
Ingredients
1 1/2 KgBoneless Chicken
40 mlMalt vinegar
2Egg
80 gmsProcessed Cheese
20 gmsFinely chopped Green Coriander
150 mlOil
6Portions yield
18 gmsSalt
75 gmsGinger Garlic paste
15 gmsCorn flour
15 gmsDeseeded Green chili
140 mlFresh Cream
75 gmsButter
Directions
Step

1

Marinate the chicken pieces with salt, ginger, garlic paste and malt vinegar. Leave for half an hour. Squeeze lightly against palms and keep aside.

Step

2

Take the smooth paste of processed cheese rubbed with palm. Add half egg, a corn flour, a part of cream and mix well to soften it.

Step

3

Add the marinated chicken, chopped green chili, green coriander stalks, remaining cream to the mixture and mix together. Refrigerate 2-3 hours.

Step

4

Take the marinated chicken pieces and half cook in tandoor on a skewer.Take out and hang for 10 mins. Baste with refined oil, cooking butter mixture and put in tandoor till it gets light golden colour.

Step

5

Garnish with clarified butter and kebab masala on top, accompanied with green coriander, Serve it into plate.
This Recipe Rate :
(0) Reviews