Roasted Bell Pepper and Cheese Pizza Recipe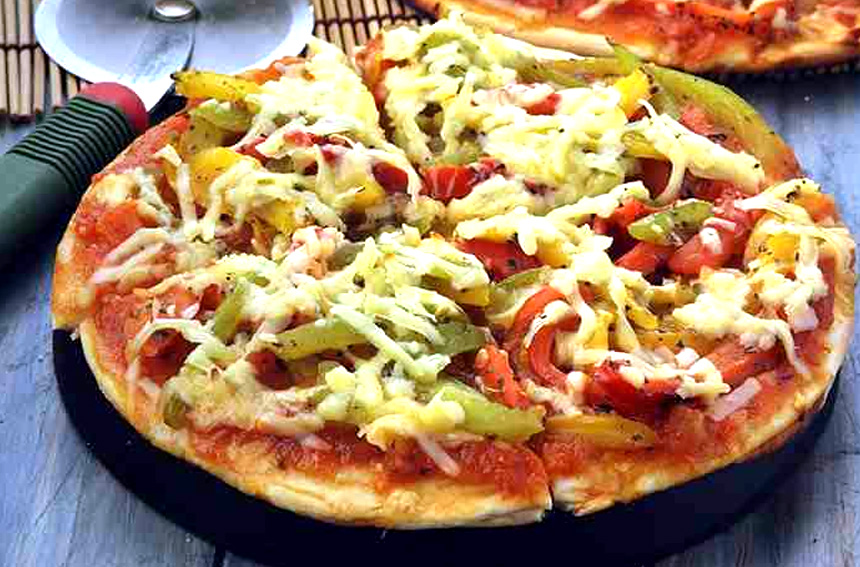 Source: tarladalal.com
Roasted Bell Pepper and Cheese Pizza is a popular street food. Here the bell peppers are first roasted and then added as a topping with cheese. This is truly the best vegetarian recipe and also a great dish which can be eaten at any time in the day. This dish has a nice taste, flavors, and aroma. This is a perfect dish for your kid's and it will be a hit at any parties. Try this yummy and easy dish at your home.
Ingredients
2 thincrust pizza base [175 mm. (7")
1/2 cuppizza sauce
1/2 cupgrated mozzarella cheese
For The Roasted Bell Pepper Topping
1 mediumred capsicum
1 mediumyellow capsicum
1 mediumgreen capsicum
olive oilfor brushing
1 tspdried oregano
saltto taste
For The Pizza Base
1 1/2 cupsplain flour (maida)
1 tspdry yeast
1 tbspolive oil
1 tspsugar
saltto taste
plain flour(maida) for rolling
Directions
For The Pizza base
In a bowl, add 2 tbsp of lukewarm water and dry yeast and mix it well and cover with a lid and keep it aside for 5 minutes.
In a bowl, add the plain flour, yeast-water mixture, olive oil, sugar and salt and knead it into a soft dough by using enough water.
Cover the dough with a wet muslin cloth and keep it aside for 1 hour.
Press the dough lightly to remove the air and divide the dough into equal portions.
Roll each portion into a 175 mm. (7") diameter circle with the help of plain flour and prick each circle evenly by using a fork.
Place a rolled dough on a greased baking tray and bake in a preheated oven at 180°c (360°f) for 5 minutes and keep it aside.
For the roasted bell pepper topping
Pierce the red capsicum with a fork, brush a little oil evenly over it and roast it over an open flame till it turns black from all the sides.
Once done, switch off the flame and wash it in the cold water and remove the skin, stem and seeds and discard them.
Cut the capsicum into thin slices and keep it aside.
Repeat the same procedure with the yellow and green capsicum.
Combine the red, yellow and green capsicum strips in a bowl, sprinkle oregano and salt over it and toss it well.
Divide the topping into 2 equal portions and keep it aside.
How to proceed
Place a pizza base on a clean, dry surface and spread ¼ cup of pizza sauce evenly over it.
Arrange a portion of the roasted bell pepper topping evenly over it and finally sprinkle ¼ cup of cheese evenly over it.
Place both the pizzas on a greased baking tray and bake in a preheated oven at 200°c (400°f) for 10 to 12 minutes or till the base is evenly browned and the cheese melts.
Once baked, removed from the oven, cut into equal wedges and serve it with chilled fruit juice.
This Recipe Rate :
(0) Reviews