Oreo Biscuit Cake Recipe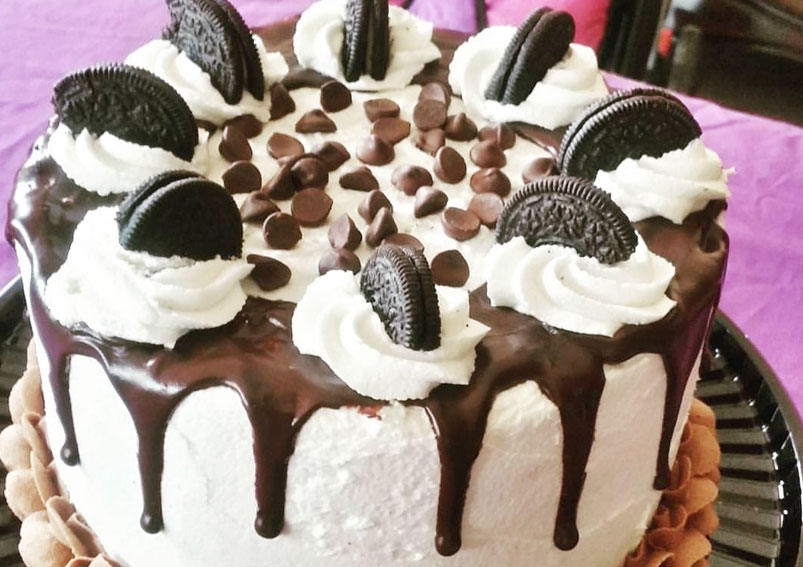 This Oreo Biscuit Cake is prepared with a few ingredients. This super-easy Oreo Cake recipe is a pure chocolate delight for those who loves chocolates. This cake recipe is extremely easy to prepare and is too delectable that no one can resist. Try this dessert recipe on any special occasions and enjoy the goodness of chocolate.
Ingredients
20Oreo biscuits
1 cup

Milk

1 tspBaking powder
4 tspPowdered sugar
Oilfor greasing
Directions
Blend the Oreo biscuits with its cream in a mixer to smooth powder.
In a deep bowl combine the Oreo biscuits mixture, milk, sugar and baking powder and mix it well to a dropping consistency.
Grease a microwave safe with oil.
Pour the cake mixture in a microwave safe baking bowl greased with oil and microwave on for 3 to 4 minutes.
To test insert a toothpick, if it comes out clean, then the cake is ready, otherwise microwave for 1 more minute.
Cool, cut into wedges and serve.
Handy tip:
This cake can also be made in a cooker.
Cook for 7 to 8 minutes without the whistle.
Also, Read Apple Slices with Vanilla Cream Recipe
Meghna Nath
This Recipe Rate :
(0) Reviews