Sweet Boondi Laddu Recipe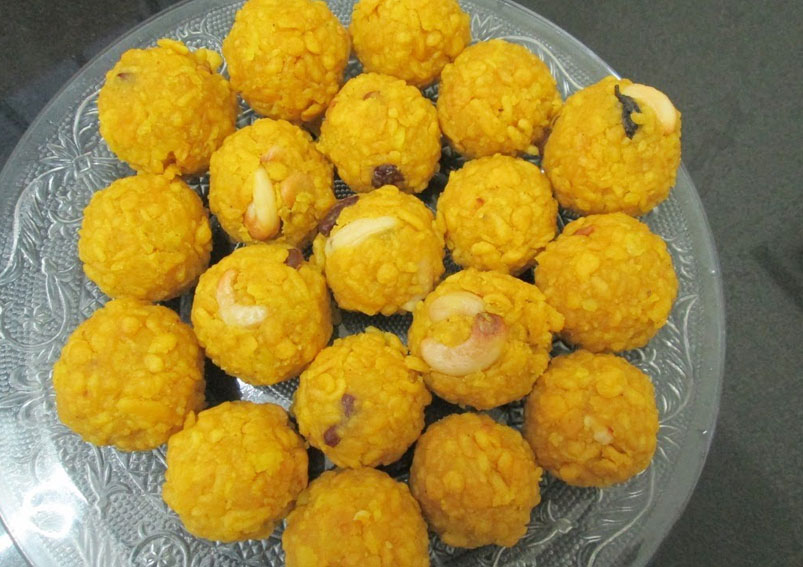 Boondi Laddu is delicious Indian sweet usually made on Diwali. Many people think making laddu is quite a difficult task. But, when you follow these steps, it will definitely guide you towards preparing the Best Boondi Laddu.
Ingredients
1 cupBesan flour
½ cupWater
pinchCooking soda
2Cloves
pinchYellow food color if required
2Cardamom
2Cloves
½ tablespoonCashews
¼ cupSugar
pinchCamphor
½ tablespoonRaisins
Oil todeep fry/li>
Directions
Take a pan and place it on low flame
Add ghee to it and fry cashew nuts till they turn to golden brown
Then add raisins and fry till golden brown
Powder cloves and cinnamon and keep it aside
Mix flour with soda and transfer the flour into mixing bowl
Add water to it little by little till it becomes a thick paste
Then add more water to make the paste to a flowing batter. Add yellow color if required
Pour batter on one ladle with the holes holding just above the oil
Fry the boondi in the oil till they turn light golden brown
Repeat the process with remaining batter
Now prepare sugar syrup. For this place a broad vessel on low flame and add sugar to it
Add water till sugar immerse in water and heat it up
Check for single string when you take a drop between your thumb.
Drain the boondis on a tissue paper and add them to warm sugar syrup immediately
Add cashews, raisins, camphor, cardamom powder to it and mix them well
Just squeeze and press tight to shape the ladoos
The syrup and the oil will squeeze out while pressing and this helps the laddus to become moist.
The sweet and tasty homemade Boondi Ladoos are ready to eat. Store them in an airtight container and eat whenever you are interested. Make sure that the batter is not too watery. If it is too watery, then the balls may fall flat. Batter consistency is always important while preparing ladoos. These sweet ladoos have great health benefits and considered as recovery agent after pregnancy. Find the Health Benefits of Laddos after Pregnancy.
This Recipe Rate :
(0) Reviews