Maharashtra Special Sabudana Khichdi Recipe: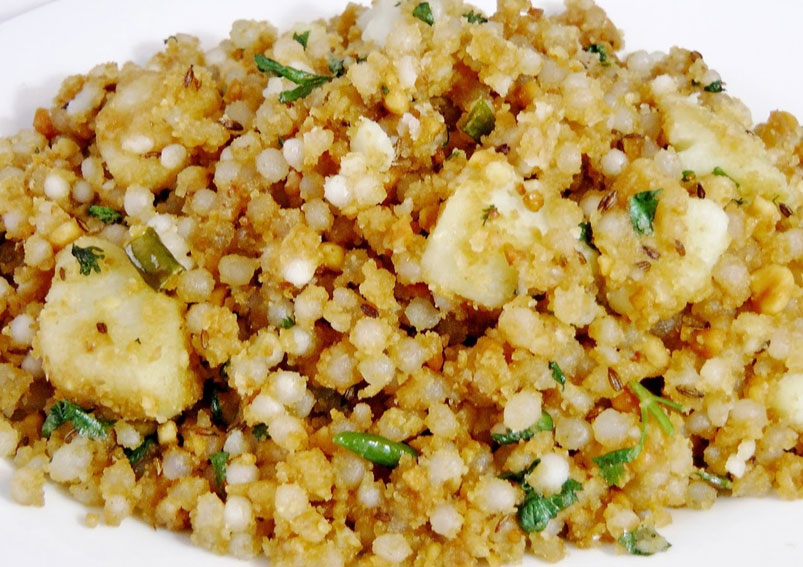 Maharashtrain Recipe of Sabudana Khichdi is a famous dish generally prepared and taken after fasting or vrat during Navaratri. Try this traditional dish on any fasting day and have it after completion of pooja.
Ingredients
1 cupSabudana
½ cupRoasted and coarsely powdered peanuts
Salt to taste
1 cupPotatoes pieces
½ cupGreen peas
½ onionOnions
Oil
1 tablespoonCumin seeds
½ tablespoonsMustard seeds
6Curry leaves
2Green chilies
2 tablespoonsCilantros
Directions
Wash the sago and soak it in water for at least 2 hours
Drain the water and get rid of extra starch
Take a pan and place it on a low flame
Heat oil in pan and temper cumin, mustard seeds
Add chopped onions, green chilies, curry leaves to the pan
Toss them for 2 to 3 minutes
Add potato pieces to the pan. You can also add other vegetables like carrot pieces, capsicum pieces, green pieces if you have
Cover them for 30 seconds and cook them well
Add pinch of turmeric powder for nice color to khichidi
Add sago and required salt
Mix them well and cover the lid for about 3 minutes
Do not add water as the water in sago is sufficient for cooking
Add peanut powder and mix everything.
Increase the heat and keep tossing for about 2 minutes
Finally add chopped cilantro and off the flame
The tasty and yummy Sabudan Kichdi is ready to eat.
You can also add grated coconut at the end for better taste. Adjust the soaking time as per the type of tapioca pearls. You can also prepare vada, ladoos, pakora using the main ingredient sabudana. Health Benefits of Sabudana.
This Recipe Rate :
(0) Reviews