Karnataka Style Masala Dosa Recipe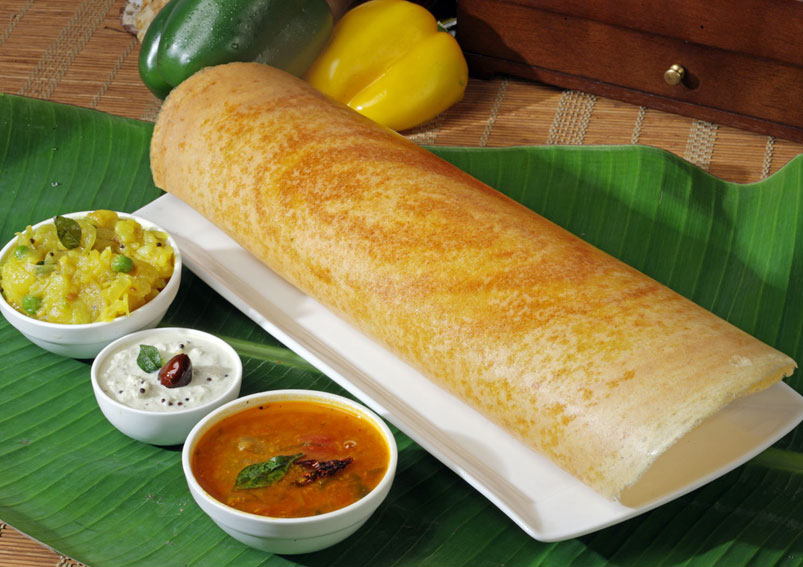 Mysore Masala Dosa Recipe is one of the South Indian special dosa. Stuff the masala in dosa and have it as a breakfast along with your family members.
Ingredients
Dosa Ingredients:
1 cupRaw rice
1 cupBoiled rice
¾ cupUrad dal
½ cupChana dal
½ cupTur dal
1 teaspoonMethi seeds
¼ cupPoha
1 teaspoonSugar
Stuffed Masala Ingredients:
2Potatoes
1Onion
2Green chilies
1Gigner
¼ teaspoonTurmeric powder
1 teaspoonLemon juice
Saltto taste
1 ½ tablespoonOil
1 tablespoonCoriander leaves
1 teaspoonMustard seeds
1 ½ teaspoonUrad dal
5 leavesCurry leaves
Red Chutney Ingredients:
4Red chilies
¼ cupRoasted gram dal
1 tablespoonOnion
¼ cupGrated coconut
1Garlic
1 /12 teaspoonsTamarind
Saltto taste
¼ teaspoonSugar
1 teaspoonOil
Directions
Prepare dosa batter first. Soak rice, urad dal, chana dal, tur dal and methi seeds in water for about 6 hours
Soak poha in water for atleast half an hour before you start the grinding process
Drain the whole water and grind the ingredients in batches adding little water in middle while grinding
Make it to a smooth paste. Add 1 teaspoon of sugar to the batter and mix it well
Add salt and ferment the batter over night for atleast 8 hours
Make potato masala. Heat oil in a bottomed vessel and add mustard seeds to it
Let them splutter for a while. Add urad dal, curry leavers, green chilies and ginger
Saute them for few seconds and add sliced onions
Fry them for 2 minutes and add turmeric powder to it
Add boiled potato cubes to it and mix them well
Lightly crush the potatoes while cooking with the help of ladle
Sprinkle ¼ cup of water and close the lid. Cook it under low flame for about 5 minutes
Remove the lid and add salt, chili powder, lemon juice, coriander leaves
Mix them well and off the flame.
Remove it in a bowl and keep aside
For preparing red chutni, add oil to a small pan and roast the red chilie
Add garlic to it and roast it for a minute
Grind the roasted chilie, garlic, roasted gram dal, onion pieces, grated coconut, tamarind, sugar and salt to a fine paste.
Remove it to a bowl and mix it well by adding a tablespoon of oil
Coming to preparing a dosa using pan. Place a pan on flame and heat it on high flame for about 20 seconds
Sprinkle water to test whether the dosa pan is ready for dosa or not. The water droplets should sizzle
Reduce the flame and pour 2 ladles of dosa batter on pan
Use back of the ladle to sweep in a circular motion. Drizzle oil through sides of dosa
Cook dosa on medium flame till the base begins to turn brown in color
Just rub a spoon of red chutni on dosa and place a full tablespoon of potato mixture on dosa
Fold dosa as shown in the picture and remove it to a serving plate
Preparing the other dosa's with remaining batter in the same way.
The tasty dosa with potato masala is ready to eat.
Do not use long grained rice to prepare the dosa batter. Try short-grained sona masuri type rice to prepare the batter. You can add the required spice based on your interest to prepare the red chutni. Left over dosa batter can be refrigerated for future use.
Know the History of Masala Dosa
-Neelima
This Recipe Rate :
(0) Reviews