Rajasthan Special Mangodi Ka Sabzi Recipe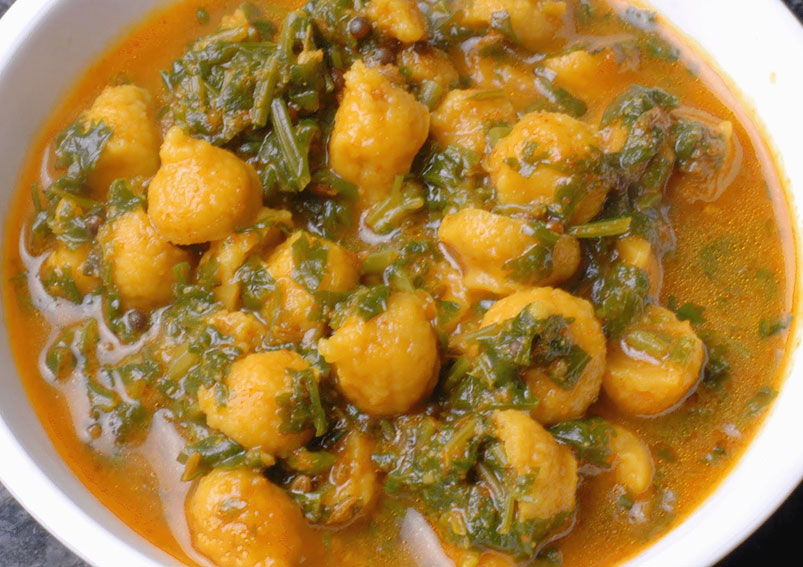 Mangodi Ki Sabzi Recipe is a simple tempering of mustard and cumin seeds that brings an irresistible aroma to the curry. Have a look at the recipe.
Ingredients
1/3 cupMangodi
2 tablespoonsButter
¼ cupTomato puree
1 teaspoonGrated ginger
1 choppedGreen chili
¼ cupCurd
1 tablespoonGram flour
¼ teaspoonRed chili powder
Saltto taste
1 teaspoonCoriander powder
¼ teaspoonGaram masala powder
¼ teaspoonTurmeric powder
SaltBay leaf
1Dried Chilies
2Green coriander
Directions
Heat 2 tablespoons of oil in a pan and fry mangodi till they become golden brown and crispy
Drain them and keep them aside
Add curd, gram flour, salt, red chili powder, coriander powder, turmeric powder to a bowl and mix them well to form a smooth batter
Heat remaining oil in the same pan and saute bay leaf, red chilies, cumin seeds
After they splutter, add green chili, ginger and tomato puree to it
Cook for about 2 minutes and add fried mangodi to it
Mix them well and add curd mixture
Mix it well and add one cup of water to it
Cook for about 10 minutes and add garam masala at the end
Add garam masala powder and adjust salt if required
Off the flame and garnish it with coriander leaves
Serve it hot with rice or chapatti
It can be prepared instantly by just frying the mangodi and adding them to the fried tomatoes and curd mixture.
-Neelima
This Recipe Rate :
(0) Reviews