Crispy Cauliflower Pakoda Recipe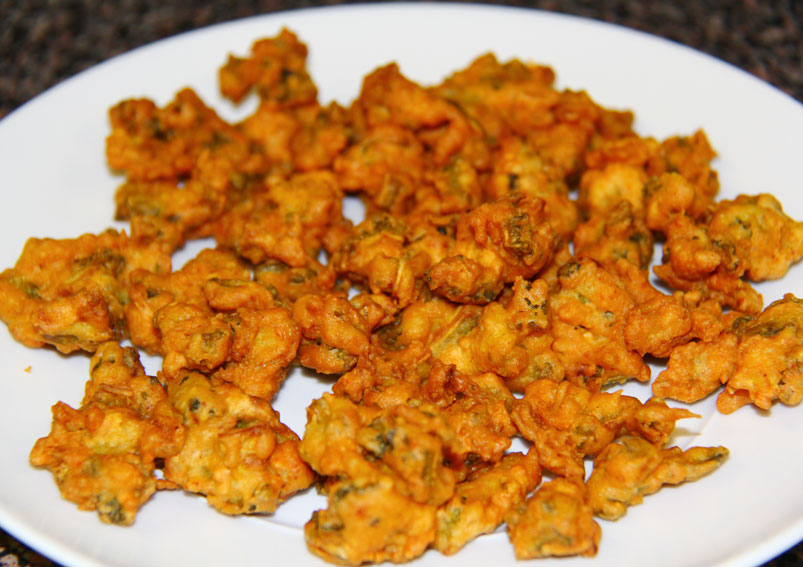 Try this Simple Cauliflower Pakoda Recipe and have it as cool evening snacks. You can try this pakora with any other vegetable instead of cauliflower.
Ingredients
1 cupGram flour
medium sizeCauliflower
1 teaspoonBaking powder
pinchChili powder
½ teaspoonGround cumin
½ teaspoonTurmeric powder
Saltto taste
Water
Oilfor frying
Directions
Break cauliflower into small florets and clean them well
Place the pieces in a mixing bowl and add gram flour, baking powder, chili powder, cumin powder, turmeric powder, salt to it
Add water and make it to a thick batter
Do not make batter too watery
Place a deep frying pan on flame
Add oil to the pan
Dip the florets in the batter and place them in hot oil
Fry them till they become golden brown in color
Remove them with slotted spoon and place them a kitchen paper so that oil get absorbed
Place them on a serving plate and serve it hot as pakora tastes excellent when they are hot.
There is lot of variations in Pakoda/Pakora Recipes. You can use different vegetables in preparing them. It is important to chop the vegetables into appropriate sizes so that they cook well inside the batter.
-Neelima
This Recipe Rate :
(0) Reviews