Tasty and Spicy Indian Beef Recipe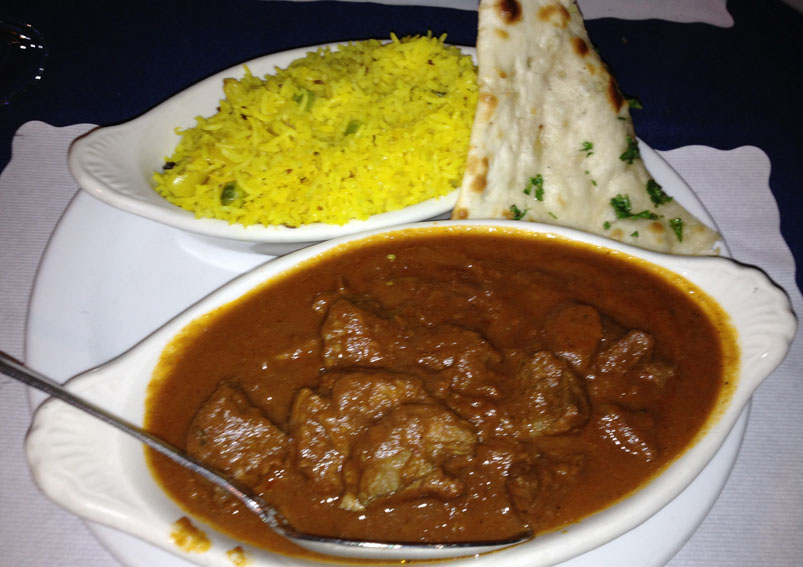 Looking for a Spicy Beef Curry? Try this Spicy Beef Indian Recipe at home by just following few steps included here. Have a look at the recipe.
Ingredients
1 kgBeef cut into small pieces
½ teaspoonto taste
½ teaspoonPepper powder
2 teaspoonsGaram masala powder
2 teaspoonsYogurt
3 tablespoonsOlive oil
4Onions
1 tablespoonGinger garlic paste
3 tablespoonsTomato puree
1 teaspoonSugar
1 cupChopped tomatoes
2 cupsBeef stock
4Cardamom
10 leavesCurry leaves
2 tablespoonRed chili powder
4Green chilies
2 teaspoonsCumin seeds
2 teaspoonsCoriander seeds
1 teaspoonFennel seeds
1 teaspoonFenugreek seeds
Directions
Cut the beef into small pieces and clean them well
Place them in a bowl and season the pieces with salt, pepper
Add yogurt to it, olive oil and toss them to coat well
Cover the bowl with a lid and marinate it as long as possible
Prepare spice mix meanwhile
Toast cumin, coriander, fennel and fenugreek seeds in a dry pan
Prepare fine powder out of it
Place a non stick pan on flame
Add olive oil to it. Add chopped onions and chili to the hot oil
Fry them for 2 minutes till they turn golden brown in color
Add ginger garlic paste and fry them for 2 minutes
Add chopped tomatoes to it and fry for 5 minutes
Add tomato puree, turmeric powder, salt, chili powder and fry the mixture till oil oozes out
Then add beef pieces to the tomato mixture and fry the pieces for about 20 minutes
Add the beef stock and curry leaves to it
Mix them well and cover the lid. Cook the mixture for about 10 minutes under low flame by gently stirring at times till the beef pieces become tender
Add the ground masala powder at the end and off the flame
Garnish it with coriander leaves and accompany it with boiled rice.
If you do not like the too much spice, lessen the chili powder, masala powder and you can add little bit of sugar to the curry. You can also try Slow Cooker Beef Stew Recipe when you are bored with the normal recipes.
-Neelima
This Recipe Rate :
(0) Reviews