Tasty Mutton Biryani Recipe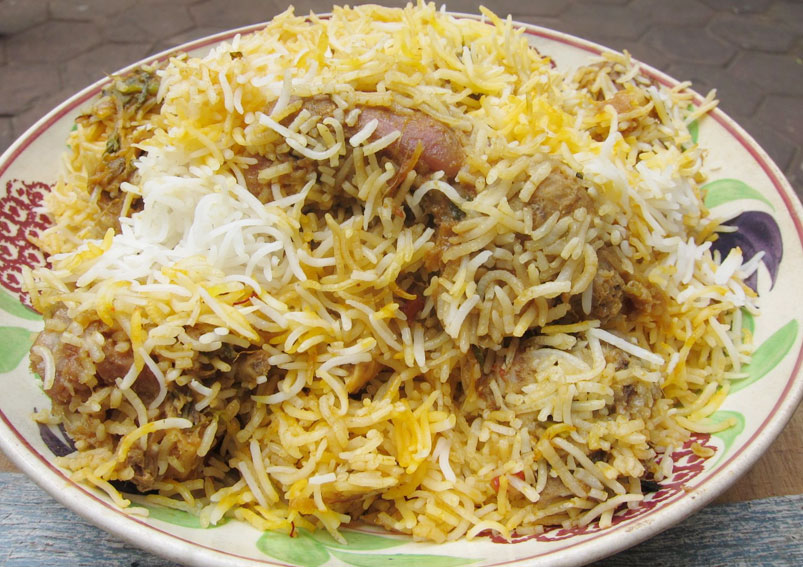 Biryani is really a divine dish for most of the non-vegetarians. If it is Biryani with Mutton, then it will definitely be a lip smacking and excellent. Try this Tasty Mutton Biryani at home by just following simple preparation steps.
Ingredients
1kgMutton
500gmsBasmati rice
1 tablespoonCumin seeds
2 tablespoonsWhole garam masala
2 tablespoonsGaram masala powder
2Boiled egg
1 tablespoonRose water
2 teaspoonsGinger garlic paste
2 cupsOnions sliced thin
1 bunchMint leaves
2 cupsCurd
1 tablespoonCashew nuts
¼ teaspoonTurmeric
pinchSaffron
1 bunchCoriander leaves
Saltto taste
1 tablespoonRed chili powder
5 tablespoonsOil
½ tablespoonGhee
Directions
Wash mutton and dry it for 5 minutes
Add garam masala powder, salt, ginger garlic paste, red chili powder and curd to it
Marinate the mutton pieces for overnight in refrigerator
Boil water and oil, salt to it
Add half cooked rice
Fry the thinly sliced onions until they turn golden brown and add half of it to the marinated mutton
Place a deep pan on flame and add the marinated mutton pieces to it
Add half cooked rice, mint leaves, coriander leaves and top up with fried onions
Take a separate bowl and milk to it. Add saffron flakes and pour it in the handi
Cover the pan with air tight lid or you can also add the sticky substance to cover the lid tight
Cook for about 30 minutes and off the flame
Add rose water at the end and garnish it with boiled eggs
Serve it hot with fresh Tomato Raita.
This Mutton Dhum Biryani is famous in Hyderabad and is available in most of the restaurants.
Know the importance of Goat Meat and include it in your diet.
-Neelima
This Recipe Rate :
(0) Reviews