Tasty and Crispy Sabudana Dosa Recipe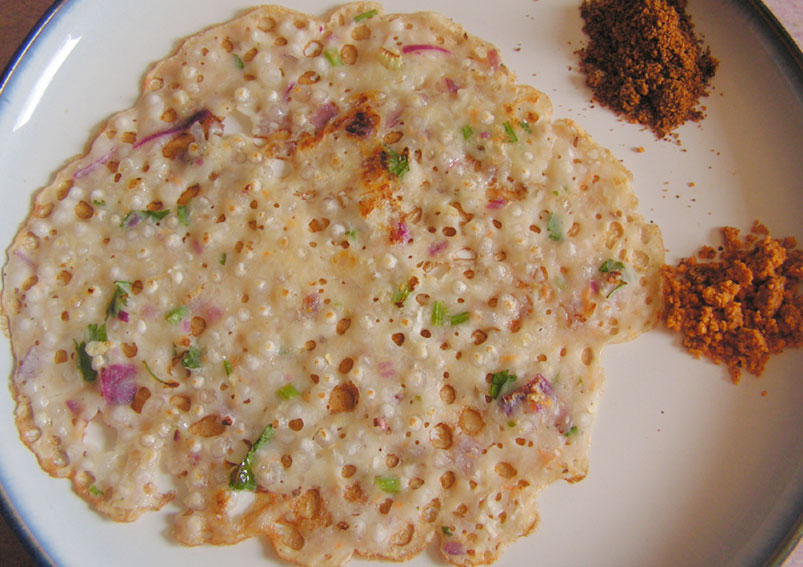 The main ingredients that make Sabudana Dosa are fresh curd, sabudana and rice. Sabudana Perugu Dosa is one of the famous South Indian Breakfasts. Have a quick look.
Ingredients
1 cupRice
½ cupSabudana / sagubiyyam
2 cupsCurd
Saltto taste
½ teaspoonGrated ginger
2 tablespoonsCoriander leaves
1 tablespoonCurry leaves
½ teaspoonChopped green chili
½ teaspoonJeera seeds
Directions
Soak rice and sabudana in curd for about 5 hours
Grind them into fine paste and prepare a thick batter out of it
Add grated ginger, coriander leaves, curry leaves, salt, chopped green chilies and jeera.
Ferment the whole mixture for the whole night
Place the dosa pan on low flame and once the pan is hot, pour two spoons of batter in the middle of the pan
Spread it in circular motion on the pan just like dosa
Add oil to the edges and wait for 30 seconds
Once the edges start turning to light brown in color, flip the dosa and cook for some more time
Fold it as shown in the image and place it on the serving plate.
You can eat the dosa without chutney or you can have it with Tasty Carrot Chutney
-Neelima
This Recipe Rate :
(0) Reviews