Easy and Spicy Prawn Fry Recipe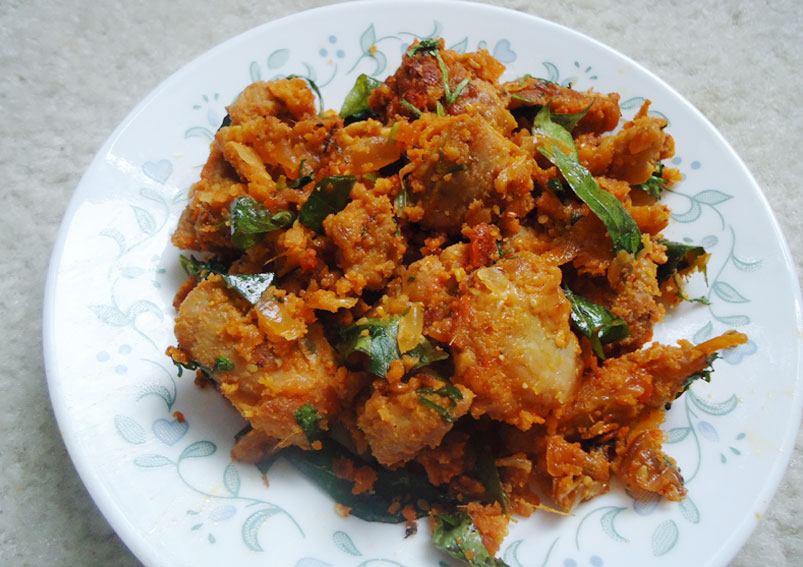 Prawn Fry Recipe or Prawn Masala cooked along with onions and tomatoes is definitely a delicious and yummy dish. It tastes good with hot rice or rotis. This Indian Prawn Fry do not require much efforts to prepare. Have a look at the recipe.
Ingredients
1 cupPrawns
1 tablespoonGinger garlic paste
¼ teaspoonGasagasalu (Khash khash) paste
1 tablespoonDry coconut powder
¼ teaspoonCashew paste
1 cupOnions
½ cupTomatoes
3Green chilies
¼ cupCoriander
10 leavesCurry leaves
Saltto taste
pinchTurmeric powder
¼ tablespoonChili powder
¼ teaspoonGaram masala powderOil forfrying
Directions
Clean the prawn pieces perfectly and place it in a mixing bowl
Add turmeric powder, red chili powder, salt to it and boil it on low flame till the water in it disappears
When the prawn pieces are been boiling, place a pan on flame
Add oil to it and heat it on low flame
Add chopped onions along with chilies, curry leaves that are silted vertically
Fry the onions till they turn golden brown in color
Add ginger garlic paste to it and fry for about 3 minutes
Add chopped tomatoes to the mixture and fry for 5 more minutes
Once they are fried, add the dry coconut powder, cashew paste and gasagasalu paste to it
Fry them 2 minutes and finally add the boiled prawn pieces
Fry the pieces for about 10 minutes on low flame
Add salt and chili powder if required
Add ¼ cup of water to it if you want the curry in gravy form
Close the lid of the pan and cook it for 5 minutes
Add garam masala powder and coriander powder at the end and off the flame
The tasty and Spicy Prawn Curry is ready to serve.
Do not fry Prawn for more time as it become hard and does not taste good. Do not add water if you want to have it in the form of fry or as a side dish with Sambar Rice.
-Neelima
This Recipe Rate :
(0) Reviews