Tasty and Crispy Onion Samosa Recipe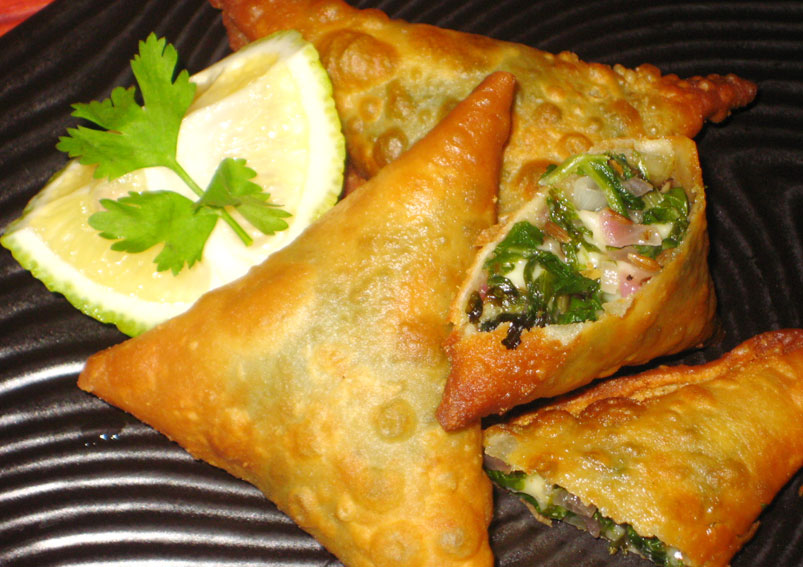 Small Onion Samosa is considered as one of the most popular appetizer or snacks in India. Preparing perfect Crisp Onion Samosa is not an easy task. One can make it perfect with many attempts. Have a look.
Ingredients
1 cupAll purpose flour (Maida)
Saltto taste
1 teaspoonLemon juice
Oilfor frying
(prepared with ¼ cup maida and water)All purpose flour paste
2Onions
½ teaspoonRed chili powder
¼ cupPoha powder
2 teaspoonsCoriander leaves
Directions
Take a bowl and add flour, salt, lemon juice. Mix them well
Add little by little warm water and make a smooth dough
Cover it with a wet cloth and keep it aside for about 20 minutes
While the dough is getting ready, prepare the samosa filling
Place a pan on flame and add oil to it
Once the oil is hot, add the sliced onions to it
Saute them for 2 to 3 minutes
Add red chili powder and mix them well
Off the flame and add ground poha to it along with coriander leaves
Mix them well and keep it aside
Prepare samosa pastry. For this take lemon sized balls of dough while the remaining dough is still covered with the cloth
Make two rotis of size 3 inches in diameter
Sprinkle little oil over one roti and place the other roti over it
Sprinkle flour on the work surface and start rolling it thin making a large roti
Continue the process with the other part of the dough
Cook the rotis slightly for about 18 to 20 seconds on each side. Do not cook completely
Remove them from pan and separate the rotis
Continue the process with the remaining rotis also
Cut each roti into two halves and stuff the onion mixture to it
Before stuffing the mixture make sure to add enough salt to the mixture
Make cone shape with the rotis and stuff the samosa mixture in it. Once the mixture is stuffed, seal them with flour paste
Continue the process with rest of the rotis
Place them in a plate and cover with a kitchen towel for about 10 minutes
Place a heavy bottomed pan on flame and add oil to it
When the oil is hot, reduce the flame and start adding samosa one after the other
Fry them till they become golden brown in color
Remove them on an absorbent paper after they are fried
Place them on a plate and serve hot to your kids.
You can also grated carrot or any other vegetable to make the Samosa more delicious. Coriander leaves are optional. If you are bored with the samosa, try this Sweet Corn Vada Recipe and have it as appetizer snacks.
-Neelima
This Recipe Rate :
(0) Reviews