Easy Vankaya Pachipulusu Recipe – Brinjal Raw Rasam Recipe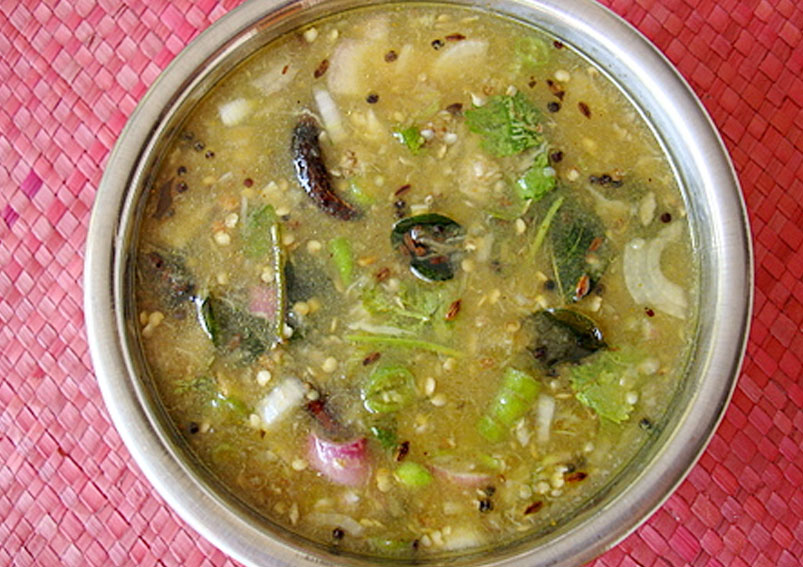 Pachi Pulusu also called as Raw Rasam is traditional Telangana and Andhra dish that is prepared with simple ingredients and serve with plain rice along with vadiyalu. Waiting for a chance to prepare the dish, here we go. Have a look and try it for your family members.
Ingredients
1Large brinjal
1Onion
small lemon sizeTamarind
2Green chilies
1 teaspoon (Optional)Grated jaggery
1 tablespoonChopped coriander leaves
1 ½ cupsWater
Saltto taste
pinchTurmeric powder
1Red chili
½ teaspoonMustard seeds
½ teaspoonCumin seeds
½ teaspoonSplit gram
10 leavesFresh curry leaves
Directions
Rub brinjal with oil and heat it directly on flame
Remove from flame and sprinkle little water on it
Let it cool for some time
Peel the skin off and mash it with hand
Heat the chilies directly on flame and continue the same process as with brinjal
Place the mashed brinjal in a large bowl and add chopped onions, green chilies, tamarind extract, jaggery and salt to it
Mix them well to form a thick paste
Add water to the paste so that it forms a flowing consistency
Place a pan on flame and add oil to it
Add mustard seeds to it and let it splutter for a while
Add cumin seeds, urad dal and fry them till they turn red in color
Add red chilies and curry leaves
Off the flame and add the tampering to the brinjal water. The tasty Pachi Pulusu is ready toserve
Garnish it with chopped coriander leaves and serve it with boiled rice along with Homemade Potato Chips.
-Neelima
This Recipe Rate :
(0) Reviews