Instant Atukula Dosa Recipe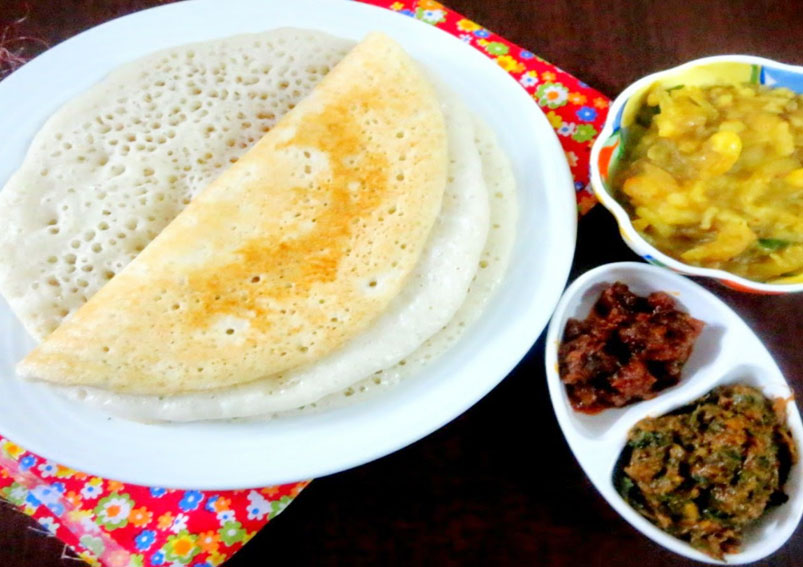 Atukulu Dosa also called as Poha Dosa is an instant dosa when you want to eat something crispy in the cool evening. It is very easy to prepare provided you have poha at home. Follow the steps below and prepare the dish for your family members.
Ingredients
2 cupsRice
½ cupAtukuly / poha
3 ½ cupsThick buttermilk
1 teaspoonMethi seeds
¼ teaspoonCooking soda
Saltto taste
fewOil
Directions
Wash rice and poha with water and soak them along with methi seeds in buttermilk over night
Grind it to a smooth paste by adding little water to it. Make sure that the batter should be of pouring consistency
Add salt and cooking soda to it
Mix them well and leave aside for about 3 hours
Place dosa pan on flame
When the pan becomes hot, pour ladle full of dosa batter in center of dosa pan
Move the ladle gently in circular motion on the pan
Sprinkle little oil on the ends of dosa and heat till it become golden brown in color
Flip the dosa and cook for few seconds
Fold it as shown in the image and place it on the serving plate
Serve it with Fresh Coconut Chutney or with any Gongura Chutney.
Flipping dosa and heating on the other side is optional. You can fold the dosa after the first side is turned to golden brown. As the dosa looks very soft, it is also called as Sponge Dosa.
-Neelima
This Recipe Rate :
(0) Reviews