Roasted Cauliflower Recipe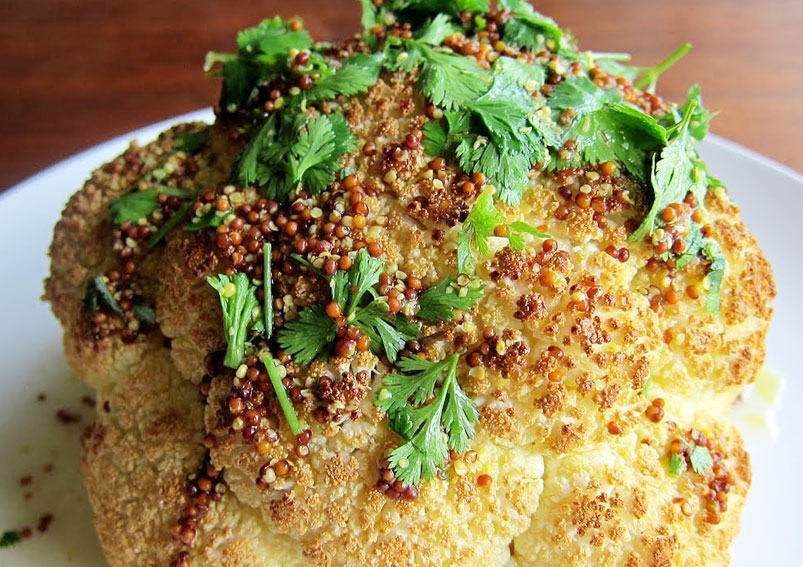 When you are bored with normal method of cooking and flavor, try this Roasted Cauliflower Curry at home and have it along with any roti. This recipe is sumptuous and packed with different antioxidants. Have a look at the recipe.
Ingredients
1 medium sizeCauliflower
½ cupYogurt
3Garlic cloves
1 teaspoonGrated ginger
2 teaspoonsGaram masala
1 teaspoonTurmeric
½ teaspoonChili powder
½ teaspoonSalt
For Cilantro Chutney:
1 cupCilantro
1/3 cupMint leaves
1Onion
½ cupYogurt
1Chili
Directions
Wash the cauliflower and dry it for few minutes
Cut the leaves of the flower and keep it aside
Take a small bowl and add yogurt, garlic cloves grated, ginger grated, garam masala powder, turmeric, chili powder, salt to it and mix them well
Brush the flower with the mixture all over. Do not forget to brush it underside
Set the flower aside in a dish and marinate the fish by placing it in the refrigerator for an hour
Transfer the flower to the oven and bake it for about 45 minutes until a knife inserted into it comes out easily
Remove it from oven and cool it for about 10 minutes
Now start preparing the chutney
For this Add cilantro, mint leaves, onion, yogurt, chili, salt to a blender and blend them to smooth paste
Remove it in a bowl and serve it with Roasted Cauliflower.
[Also Read: More Cauliflower Recipes]
If you want the flower to look red in color, then you can add few drops of food color to the mixture and brush the mixture to the flower. If you interested with the roast items, you can also try Potato Roast Recipe at home and make your meal delicious.
-Neelima
This Recipe Rate :
(0) Reviews