Best Masala Omelet Recipe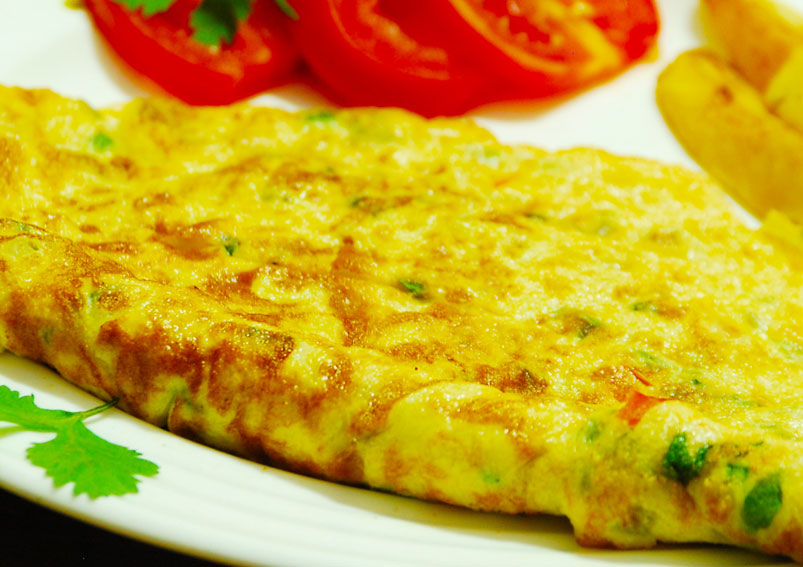 Try the Easy Omelet Masala at home and have it as brunch along with hot rice and rasam. Forget the traditional style of omelet and try the Spicy Masala Omelet with onions. Have a glance.
Ingredients
4

Eggs

2Onions
2Green chilies
2 tablespoonsMilk
4 tablespoonsCapsicum
to tasteSalt
¼ teaspoonBlack pepper
¼ teaspoonTurmeric powder
½ teaspoonCoriander leaves
2 thinly slicedCurry leaves
2 teaspoonsOil
Directions
Take a bowl and beat eggs in it until frothy
Add the ingredients – salt, turmeric powder, chili, milk, capsicum, tomatoes, black pepper, coriander leave and finally the chopped onions to the beaten eggs
Whisk them well
Place a pan on flame and add oil to it
Once the oil is hot, reduce the flame and pour half of the egg mixture on pan
Spread it around the pan and cook it on low flame till the sides golden brown in color
Flip over the omelet and cook the other side for about 2 minutes
Off the flame and slide the omelet on to a plate
Have it with bread or buns.
The spicy Masala Omelet tastes good in Sambar Rice or you can also have as side dish with South Indian Tomato Pickle mixed in hot rice.
-Neelima
This Recipe Rate :
(0) Reviews