South Indian Easy Lemon Rice Recipe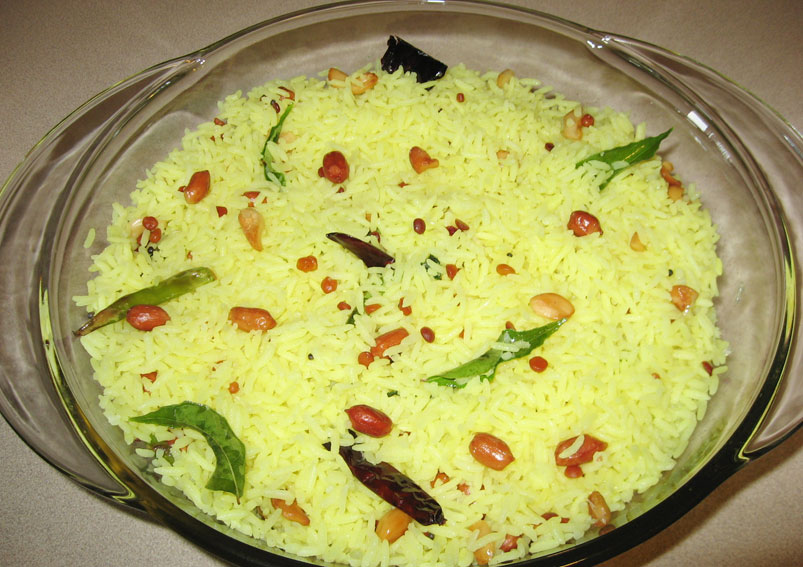 Lemon Rice is one of the most popular recipes that is prepared during most of the festivals. It is especially prepared as one of the dish during navaratrulu as naivedyam to god. You basically need to have cooked rice, lemon and few ingredients for tampering. Have a look at the recipe.
Ingredients
3 cupsSteamed rice
2 tablespoonsLemon juice
1 teaspoonMustard seeds
1 teaspoonCumin seeds
1 teaspoonUrad dal
4Green chilies
2Dry red chilies
½ teaspoonTurmeric powder
5Cashew nuts
¼ cupPeanuts
½ cupOil
to tasteSalt
Directions
Boil the rice and keep it aside
Place a small frying pan on flame and add oil to it
Add peanuts to the hot oil and roast them till they turn crisp brown in color
Remove the peanuts from oil and keep them aside
Fry the cashew nuts and place them in the same bowl
Add mustard seeds, urad dal, cumin seeds, green chilies, red chilies, curry leaves and saute them for about 30 seconds
Off the flame and add turmeric powder at the end
Add lemon juice and salt to the rice
Mix them well with the rice
Add the tamper to the rice and mix them well
Serve it to god as naivedyam during navaratrulu.
Also prepare Badam Halwa sweet recipe for dassara along with Lemon Rice.
-Neelima
This Recipe Rate :
(0) Reviews