Christmas Special Morning Crown Recipe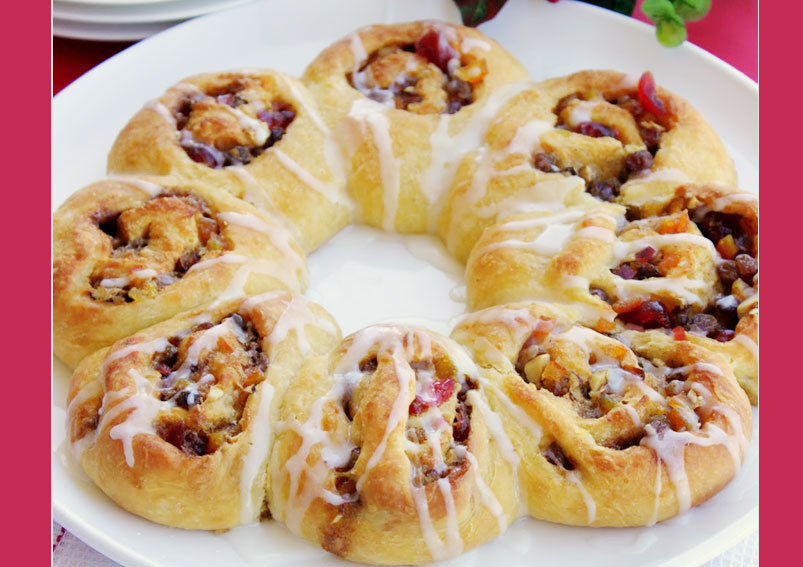 Try this different and delicious Christmas Fruit Scroll for morning breakfast at home and make your kids exciting at the breakfast table. You can prepare this dish a day advance where you can simply bake it the other day.
Ingredients
1 ½ cupsBread flour
1 teaspoonYeast
125 gmsUnsalted butter
½ cupWarm milk
1Egg beaten
50gmsBrown sugar
2 tablespoonsChopped hazelnuts
1 teaspoonMixed spice
1/3 cupMixed peel
1 teaspoonRaisins
¼ cupCherries
¾ cupSugar
1 tablespoonLemon juice
Directions
Add yeast, flour and salt to a mixing bowl. Mix them well.
Add butter, milk and egg to it.
Mix them well and knead smooth dough.
Place it in a greased bowl and cover it with a tea towel.
Leave aside for 1 hour.
Add some butter and sugar in a bowl and beat with a wooden spatula until combined.
Add nuts, spice, peel, raisins and cherries to it. Combine them well.
Roll the dough to form 30cms x 23cms rectangle.
Spread the fruit mixture on the dough.
Cut the dough into 9 equal parts and leave them aside by covering with wet cloth.
Place them on baking tray that is greased with ghee or oil.
Bake them at 180 degrees C for about 20 minutes.
Remove them from oven and cool aside for some time.
Drizzle the icing sugar and lemon juice mixture on the baked item and serve it at room temperature along with

Tomato Onion Raita

.
-Neelima
This Recipe Rate :
(0) Reviews