Yummy Mughlai Mutton Curry Recipe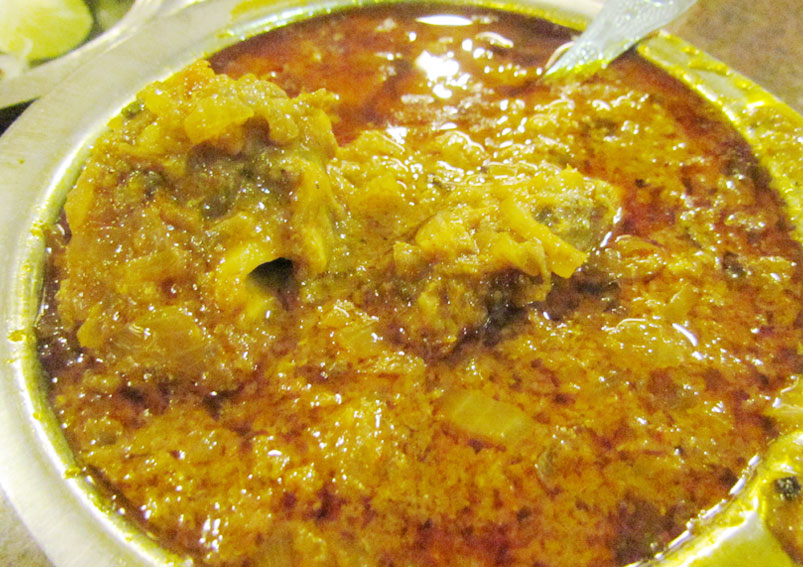 Try this Mughlai style Mutton Curry and get back to the traditional flavor for your family members by preparing the dish at home. Have a look at the recipe.
Ingredients
500gmsMutton
5Onion
½ teaspoonTurmeric powder
½ cupYogurt
½ cupWater
5 tablespoonCilantro
3 tablespoonMint leaves
to tasteSalt
3 tablespoonsGhee
3 tablespoonsOil
cubesCashew nuts
2Green chilies
1 tablespoonGinger garlic paste
1 tablespoonCoriander seeds
½ teaspoonCumin seeds
1Green cardamom
5Black pepper corns
1Cloves
½ inchCinnamon stick
2Dry red chili
Directions
Add 3 chopped onions, green chilies, ginger garlic paste, 3 tablespoons cilantro, 2 tablespoons mint, coriander seeds, cumin seeds, green cardamom, black pepper corns, cloves, cinnamon stick and red chili powder to blender.
Blend them into fine paste.
Wash mutton and cut it into medium size pieces.
Place a pan on flame and add oil to it.
Fry the mutton pieces in oil till light brown color and remove them aside.
Fry cashew nuts till they turn golden brown in color and keep them aside.
In the same pan, add little oil and fry sliced onions till they turn golden brown in color.
Add ground masala and saute for about 3 minutes.
Add fried mutton pieces to the mixture and mix it well.
Add turmeric powder and salt.
Fry the whole stuff on low flame for about 7 to 10 minutes till oil get separated from it.
Transfer the mixture to pressure cooker and cook until you get 4 to 5 whistles.
Off the flame and wait till the pressure releases from the cooker.
Remove the lid and add beaten yogurt to it.
Place the cooker on flame and cook for 5 more minutes on low flame till you get desired consistency.
Off the flame and garnish it with chopped mint, chopped cilantro and cashews.
The curry tastes good with hot rice or with Dum Biryani.
-Neelima
This Recipe Rate :
(0) Reviews