American Sweet Corn Salad Recipe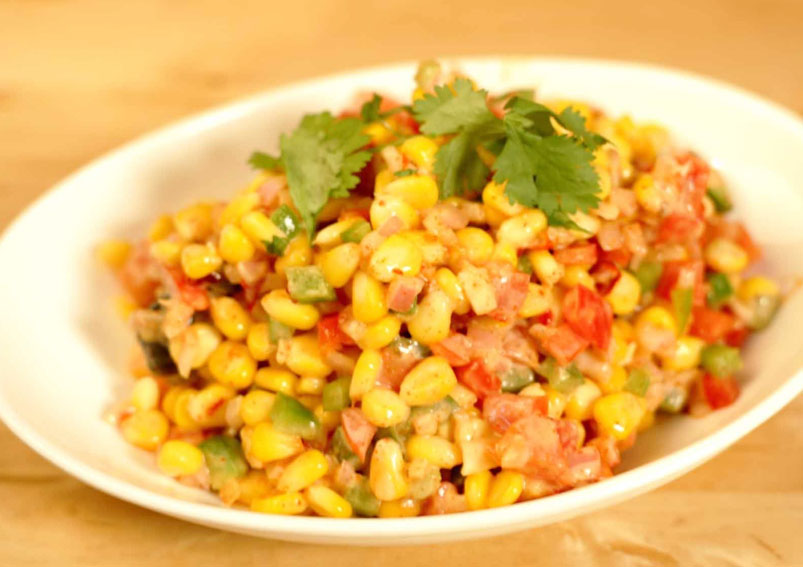 Try American Sweet Corn Salad by just mixing all the ingredients perfectly. This will definitely become your all time favorite salad with different flavors hidden in it. Have a glance at the recipe.
Ingredients
2 cupsBoiled sweet corn
½ cup choppedSpring onions
¼ cupCapsicum cubes
¼ cupTomato cubes
1 teaspoon

Olive oil

pinchMustard powder
1 teaspoonSugar
to tasteSalt
pinchBlack pepper
few dropsVinegar
Directions
Take a mixing bowl and add boiled sweet corn, chopped spring onions, capsicum cubes, tomato pieces to it. Mix them well.
Take another bowl and combine vinegar, olive oil, mustard powder, sugar, black pepper and salt.
Add the dressing over the salad and toss it well.
Place it refrigerator for atleast half an hour and have it cool for your dinner.
Also try Watermelon Salad and have it for your dinner. As Salads are the best option for your dinner that makes you healthy and fresh all the time, there is nothing wrong in having variety salads every day.
-Neelima
This Recipe Rate :
(0) Reviews