Andhra Chepala Pulusu – Andhra Fish Curry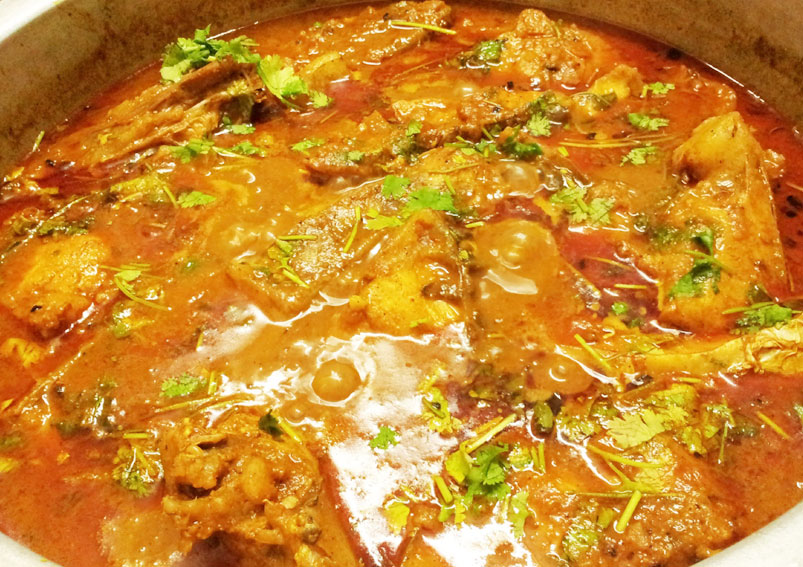 Fish Curry is renowned among lip smacking curries. Follow the easy preparation process and try this tasty Andhra fish curry at home. Serve it as a main course for any get-together party.
Ingredients
7Fish pieces
1 cup finely choppedOnions
6Green chilies
2 teaspoonsGinger garlic paste
1 teaspoonCumin powder
2 teaspoonsRed chili powder
10 leavesCurry leaves
1 cupTamarind juice
2 tablespoonsCoriander leaves
Saltto taste
½ cupOil
½ teaspoonMustard seeds
¼ teaspoonMethi seeds
Directions
Place a pan on flame and add oil to it.
Add mustard seeds and methi seeds. Let them splutter for few seconds.
Add chopped onions and green chilies to it.
Fry them till onions turn golden brown in color.
Add ginger garlic paste and fry for 3 minutes.
Add turmeric powder, coriander powder, cumin powder, red chili powder and salt.
Mix them well and fry them for 30 seconds.
Add tamarind juice and bring them to boil for about 10 minutes.
Now add the fish pieces carefully to the pan and mix it well with the ingredients slowly.
Cover it with lid and cook it on low flame for about 10 minutes until the sauce thickens or till the oil start separating from the gravy.
Adjust salt and off the flame.
Garnish it with chopped coriander leaves.
Try to stir just once or twice as continuous stirring may lead to breaking of fish pieces. Do not serve it hot.
Serve it after couple of hours of cooking as the fish pieces absorb the tangy flavor and spices. Also try Easy Fish Fry Recipe at times if you are bored with the tangy fish curry and have it as side dish with South Indian Rasam.
-Neelima
This Recipe Rate :
(0) Reviews