Honey Glazed Pork Chops Recipe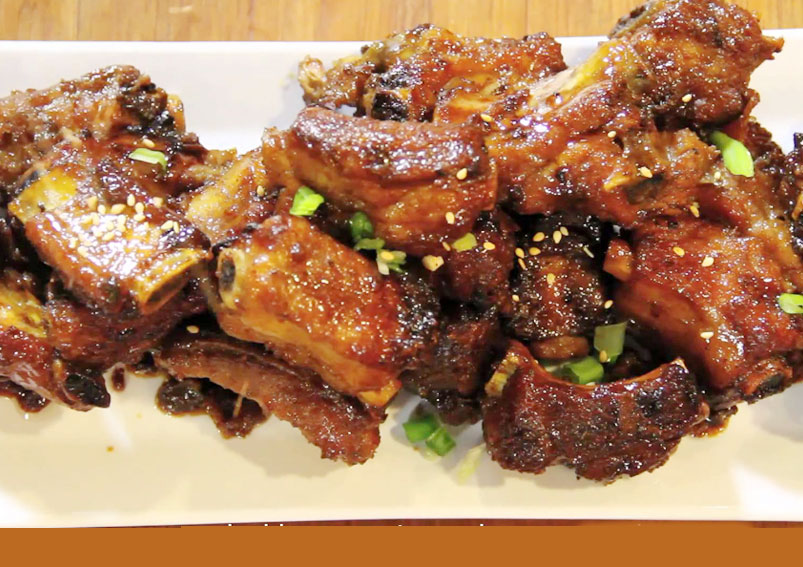 Pork Chops is easy to try at home. Add a spicy sweet kick to your traditional pork chops and enjoy the taste of Spicy Honey Pork Chops. Serve the dish with tomato sauce as snack item or you can even have it with hot rice with rasam or sambar combination.
Ingredients
½ kgPork
4Onions
1Tomato
10 leavesCurry leaves
2 tablespoonsHoney
½ tablespoonCurd
2 tablespoonsCooking oil
Saltto taste
2Chilies
1 teaspoonChili powder
1 teaspoonGinger garlic paste
½ teaspoonKashmiri chili powder
½ teaspoonTurmeric powder
1 teaspoonCoriander powder
½ teaspoonGaram masala powder
Directions
Take a mixing bowl and add pork pieces to it
Add garam masala powder, chili powder, kashmiri chili powder, turmeric powder, coriander powder, salt to the pork pieces and mix them well
Add curd to the pork pieces and mix them well
Marinate the pieces for about 1 hour
Place the marinated pieces in a pressure cooker and add green chilies, chopped tomatoes to it
Pressure cook it on low flame till one whistle and then for about 10 minutes on high flame
Off the flame and keep the cooker aside till the pressure releases from it
Place a pan on flame and add oil to it
When the oil is hot, add chopped onions, curry leaves and chilies
Saute them till onions become golden brown in color for about 10 minutes
Add ginger garlic paste to the fried onions and mix it well with the onions
Now open the pressure cooker where you can find the meat swimming the water in cooker even though you did not add water to it. This is because water from the meat oozes out when it is cooked on low flame initially
Add meat to the fried onions and stir it well
Close the lid of the pan and cook it on low flame till the water content get reduced from it
Once the water from the meat evaporates, add honey to the meat and cook for few more minutes
Off the flame and add coriander leaves at the end.
The tasty Pork Chops with Honey tastes good with rice and also with colorful Tricolor Chapatti.
-Neelima
This Recipe Rate :
(0) Reviews