Indian Fish Korma Recipe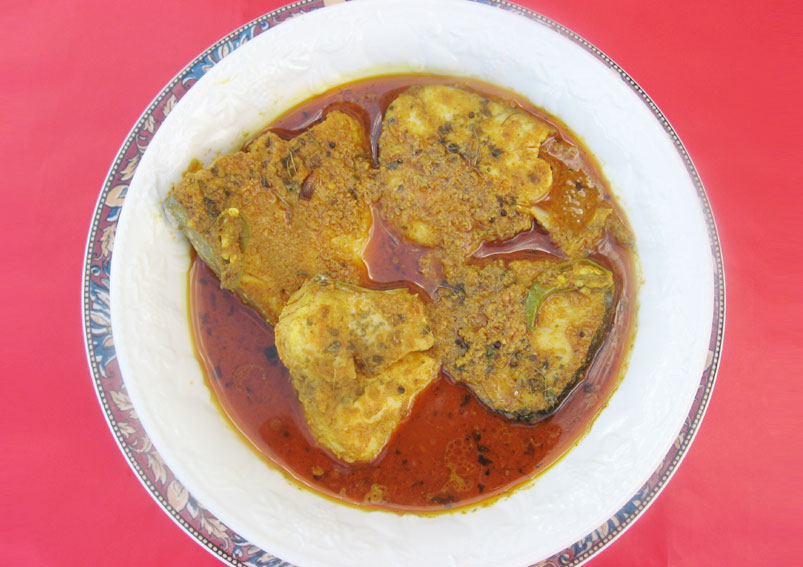 Fish Korma is really an excellent dish that melts in your mouth within seconds. You like to have more when you taste it once. It tastes good with plain roti or you can also have it with hot rice.
Ingredients
½ kgFish
2Onions
2Tomatoes
½ cupCoconut paste
1 tablespoonLemon juice
½ cupOil
Saltto taste
1 cupWater
1 teaspoonCoriander seeds powder
2Red chilies
¼ teaspoonTurmeric powder
½ teaspoonBlack pepper powder
1 teaspoonCumin seeds powder
½ teaspoonGinger garlic paste
1 tablespoonCoriander leaves
Directions
Clean fish pieces well
Apply turmeric powder and set aside
Place a pan on flame and add oil to it
When the oil is hot, add chopped onions, coriander seeds and saute them for few seconds
Add ginger garlic paste and fry it with onions for about 3 minutes
Add chopped tomatoes to the pan and fry it with onions for about 3 minutes
Add turmeric powder, red chili powder, coriander powder, cumin powder, pepper powder and coconut paste to the onion mixture and mix them well
Add water to it and season with salt
Bring it boil and add fish pieces to it
Cook the fish pieces on low flame for about 10 minutes and add lemon juice at the end
Off the flame and garnish, it with coriander leaves at the end.
If you are looking for something fish curry that tastes tangy, just try Andhra Chepala Pulusu and taste the tanginess with hot rice.
-Neelima
This Recipe Rate :
(0) Reviews