Tasty Pani Puri Recipe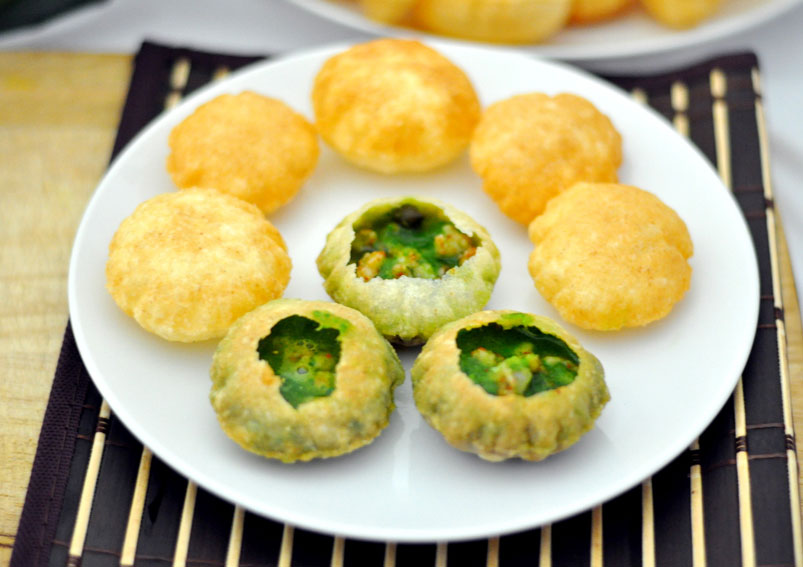 Pani Puri or Golgappas is one of the famous Mumbai streets food that every one really enjoy to have during evenings. It is spicy sweet water in puris punched with a hole. Try the recipe at home and have it with your family members.
Ingredients
For water:
20 (available instantly in super markets)

Puris or Golgappas

1 cupMint leaves
1.2 cupCoriander leaves
½ teaspoonChopped ginger
1 teaspoonChopped green chilies
1 tablespoonLemon juice
¼ teaspoonPepper corn powder
1 teaspoonBlack salt
1 teaspoonCumin seeds
Saltto taste
1 tablespoonOnions
4 cupsWater
¼ cup

Green Chutney
For stuffing:
1 cupBoiled and mashed potatoes
¼ cupChopped tomatoes
1 teaspoonCoriander powder
1 teaspoonJeera powder
1 teaspoonChili powder
1 teaspoonBlack salt
Saltto taste
1 teaspoonOil
Directions
Start the preparation process with the potato stuff.
Place a pan on flame and add oil to it
Add boiled potatoes to it and cook them for a minute
Add little water to it if required
Add chopped tomatoes and cook for 2 minutes by stirring continuously
Add coriander powder, cumin powder, chili powder, black salt and salt to the potato mixture and mix them well
Sprinkle little water and cook for 3 minutes till oil from it oozes out.
Off the flame and let it cool for some time.
Meanwhile start preparing the water mixture
Take a deep bowl and add water, chopped mint leaves, chopped coriander leaves, lemon juice, chopped green chilies, chopped ginger, pepper corn powder, black salt, cumin seeds and salt.
Mix everything well
Take puris and crack a small hole in the center of each puri
Stuff each puri with the potato mixture, top it with green chutney and then dip in the mint water.
Serve it immediately in a bowl with onions.
Continue the same with remaining puris.
If you have time to prepare the water, refrigerate the prepared mint water for 1 hour and fill it in puris before serving. Chilling the water enhances the flavors and the water tastes excellent.
-Neelima
This Recipe Rate :
(0) Reviews