Aam Ka Panna Recipe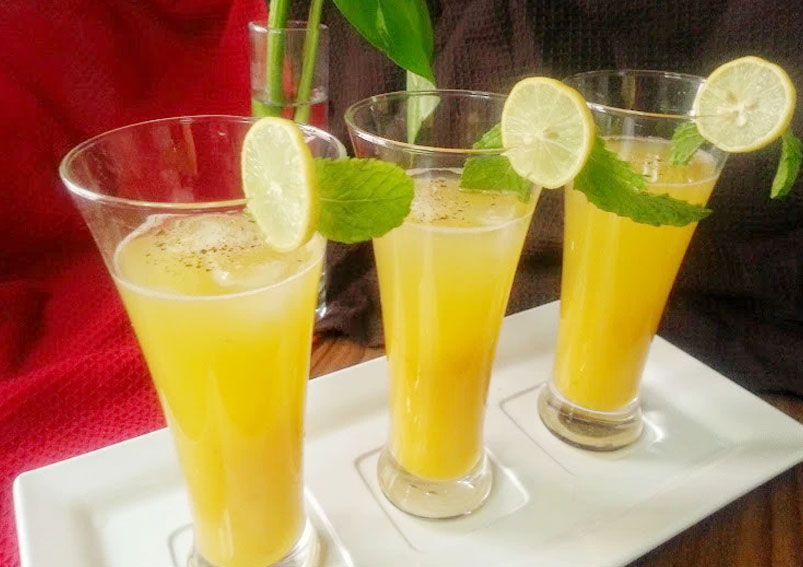 Aam Panna is a most popular Indian drink and summer coolant in North India and in some parts of India like Hyderabad. It is made out of green mangoes or raw mangoes and is a best tonic which cures many problems and also best beverage to beat out heat. This drink is usually called as aam ka abshola or hyderabadi aam ka abshola.
The tangy taste gives an amazing and delicious flavor to the drink. Check the recipe of Aam Ka Panna or Aam panna juice in a step by step process.
Ingredients
3 medium sizeRaw mangoes/green mangoes
3-4 tbspSugar/powdered sugar
1/2 tspCommon salt
1/2 tspBlack salt
1/2 tspBlack pepper powder
5-6Mint leaves crushed/paste
1/2 tspRoasted cumin seeds powder
1 cupIce cubes
2 glassesChilled water
Directions
In a pressure cooker, add mangoes, enough water and pressure cook for 5-6 whistles.
Remove the steam and cool down the cooked mangoes completely.
Peel the skin of the mangoes and take out the soft pulp out of it.
Add pulp into a jar or pan.
Add powdered sugar into it and stir well till sugar dissolves.
Add salt, black salt and stir well.
Add black pepper powder and roasted cumin seeds powder and mix well.
Add a little quantity of mint leaves paste into it.
Mix all the ingredients well.
Add some ice cubes, chilled water and mix it.
Aam panna juice is ready to drink.
Finally, serve it in a glass by adding ice cubes into it. Aam Ka Panna has got lot of health benefits and very easy to prepare.
Check for more beverages.
- Moses
This Recipe Rate :
(0) Reviews