Masala Fries Recipe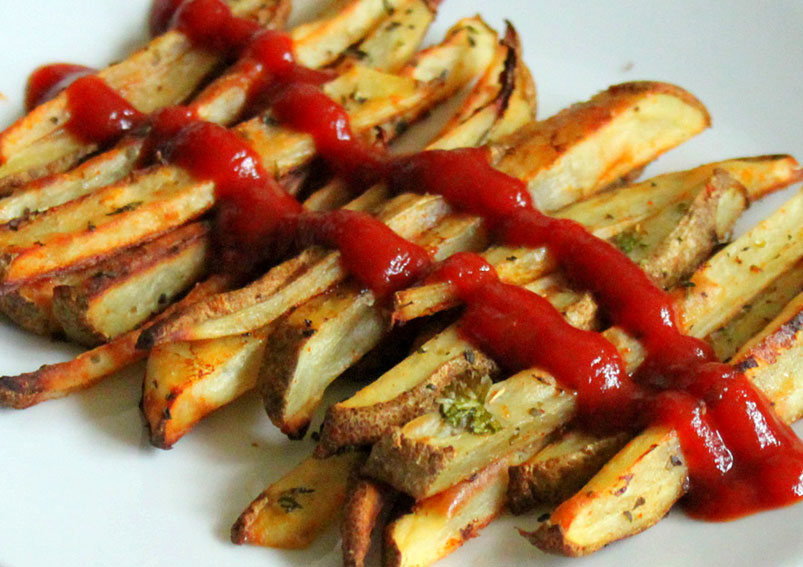 These fries or chips can be given to children or eaten by yourself when you are bored. A plate of fries with a cup of chai can make your evening special and wonderful. These fries are juicy and masala filled and can be your starter that is very easy to make. If you have your friends coming home, this could be the appetizer until the rest of your meal is done. So, here is the recipe of potato masala fries.
Ingredients
1 kgthat are peeled and cut into strips
2 tbspmargarine/butter
1/2 tsppaprika OR tandoori masala
1 tspsalt(or to taste)
2-3 tbspketchup/tomato sauce
1 tbsptomato puree/paste
1 tspchilli powder (or to taste)
1/4 tspgarlic paste
1/4 tspcumin powder (optional)
1/4 tspturmeric powder (optional)
1 choppedgreen chillies
juice of half a lemonchopped coriander for garnishing
oil fordeep frying
Directions
First, fry the potato strips two times. You can fry it just once. But to make it more crispy and yummy, you can fry it twice. Once, fry it and drain all the oil and the second time can also be fried in the same oil.
Once you are done with the frying, heat the pan with butter. Turn off the heat when it is done and add paprika or tandoori masala whichever taste you want to make it with. Add salt, red chilli powder, garlic paste, tomato ketchup or the puree. If you want you can also add chili sauce to make it more spicy and hot.
This is an optional step. Sometimes the taste and aroma of cumin powder and turmeric could enhance the taste of the dish. So, you could add those and then throw a little of chopped chilis or chili flakes. Adjust the taste as per preference.
Turn the heat on and cook the ingredients until they become like a thick paste. Once the paste is well thickened, throw the chips that are fried and left for cooling. Don't mix it with a ladle. Just toss them around so that the puree is coated on the fries. Turn of the heat and squeeze a lemon into the fries.
Garnish with coriander and tada! You are done!
This Recipe Rate :
(0) Reviews