Tasty Cauliflower and Noodles Clear Soup Recipe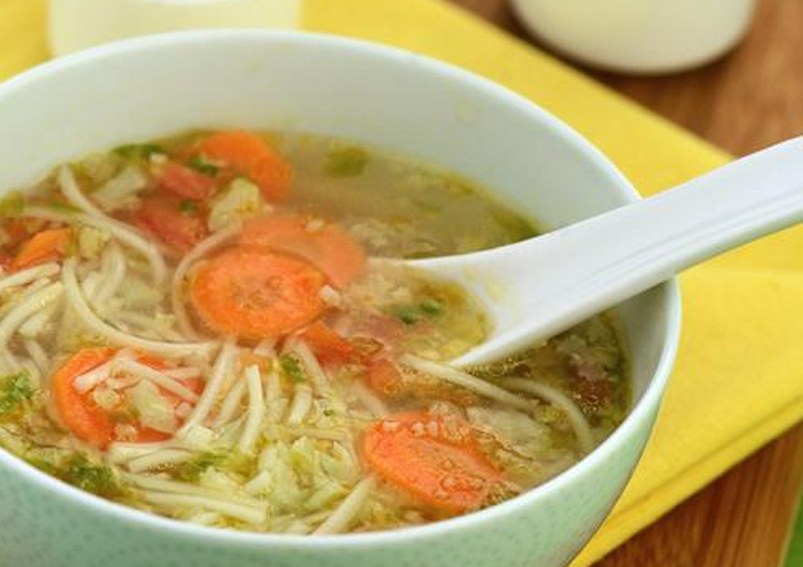 Source: www.tarladalal.com
Cauliflower and Noodles Clear Soup is tasty and wholesome soup recipe that you can easily prepare at your home with easily available ingredients. This soup has a nice texture, flavor, and taste. You can have this soup as an appetizer before any meal. Try this soup at your home and relish its mouth-watering flavors and awesome taste.
Ingredients
3/4 cupboiled Hakka noodles, cut into 2" pieces
1/2 cupfinely chopped cauliflower
1/4 cupsliced carrots
1 tbspchopped celery
2 tbspchopped spring onion whites
1/4 cuptomatoes, chopped into small pieces
2 tbspchopped lettuce leaves
4 cupsclear vegetable stock
2 tbspoil
saltto taste
For Vegetables Stock
1/2 cuproughly chopped onion
1 cuproughly chopped carrots
1/2 cupchopped celery (ajmoda)
3 to 4coriander (dhania) stems
1 tspblack peppercorns (kalimirch)
Directions
For the vegetable stock
Boil 6 cups of water in a deep pan, add chopped onions, carrots, celery, coriander, peppercorn and cover and cook on a slow flame for 20 minutes.
Switch off the flame and cool and strain it and discard the vegetables and keep it aside.
How to proceed
Heat the oil in a wok over a high flame, add the cauliflower, carrots, celery, spring onion whites and fry for 3 to 4 minutes and switch off the flame and keep it aside.
In a pan, add the stock, and add the fried vegetables, tomato pieces, lettuce and salt and cook it on a low flame.
Add the noodles and switch off the flame and pour into a serving bowl and serve it hot.
Meghna Nath
This Recipe Rate :
(0) Reviews