How to Prepare Ras Malai Recipe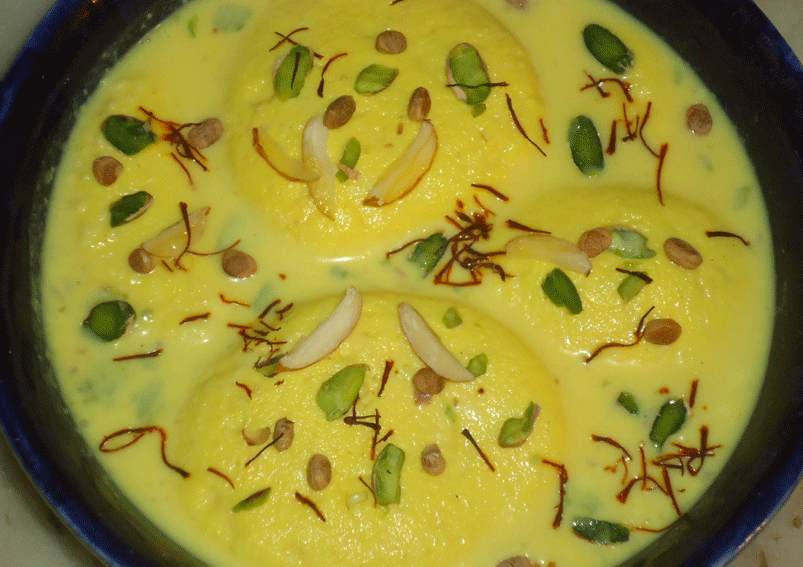 Ras Malai is a very delicious and royal dish. This Indian cuisine, mostly prepared on occasions but it is all the time favorite recipe. Here, I have the recipe to prepare this sweet at home.
Ingredients
For ras malai balls:
For therasmalai balls
1 liter milk(creamy)
4 tablespoonslemon juice
1 teaspoonCorn flour
4 cupswater
1 cupsugar
For the (syrup):
500 mlmilk (creamy)
5-6green cardamom (crushed)
A pinchsaffron
3-4 tablespoonssugar
Fewpistachios (chopped)
Directions
Put milk in a heavy bottom pan and boil it. Once it boiled, add ½ cup of water to decrease the temperature of milk.
After 5-10 minutes, add lemon juice in the milk till the milk curdles completely.
Separate water and chena with the help of strainer.
Now rinse the chena under tap water.
Squeeze the remaining water from chena with hands.
Add corn flour in it and mash in finely.
Once it's smooth make small ball out of it and set aside to cool.
Now, start making syrup.
Take your full cream milk in a heavy bottom pan and heat it.
Reduce it to half.
Add saffron, cardamom powder, pistachios and sugar.
Keep boiling for 5 minutes more.
Off the flame and set syrup to cold.
When it gets cold, put chena balls in the syrup.
Garnish with pistachios and serve cold as well as hot.
Ras malai is the rich and creamy recipe. It is a delicious and palatable dessert. Be sure the milk must be creamy and full of butter for the best taste.
-Nandini Chauhan
This Recipe Rate :
(0) Reviews