Aloo-Onion Poha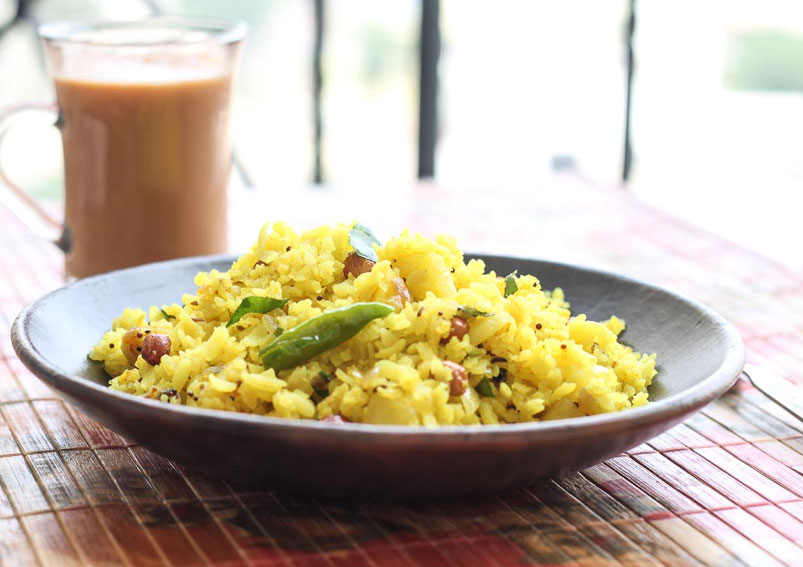 Aloo Poha or Onion Poha is the best way to escape cooking. It is easy, stress free and quick. You can eat it for dinner, breakfast or as a snack also. You can get as creative as you want with the dish or plainly leave it just like that because both the ways it tastes really good. So, here is an easy recipe for the day – Aloo Onion Poha.
Ingredients
2 CUP

poha/chidva

(pressed rice)
1 Tbspoil
1/8 tspasafoetida
1 tspmustard seeds
1 cuponions-chopped fine
8-10curry leaves
2-3whole red chillies (if needed)
1/2 cuppotatoes-diced small
1/2 tspturmeric
1 tspgreen chillies-finely chopped or to taste
1/2Tbsp lemon juice
2 Tbspchopped coriander leaves
Directions
Put the poha in a bowl and wash it or you could simply sprinkle water on it. Do not let it soak at all for long otherwise it will become mushy.
Take the pan and heat the oil. Add mustard, jeera , asafoetida, curry leaves and sauté well. Let them splutter.
Add onion and chili into the pan and saute till it becomes brown.
You can now add the potatoes to the mix and fry it till it is cooked well.
Add a spoon of turmeric into the mixture and sauté in low flame until the potatoes are fully cooked. Sprinkle water whenever needed.
Once the potatoes are cooked, increase the heat of the pan and add poha, salt. Mix it well.
Once you mix the poha well, add coriander and lemon juice. You can mix it well for 2 minutes for the flavor to settle.
Serve it hot to the kids and enjoy your meal.
Tip – The best sidedish for Aloo-Onion Poha is either curd + pickle or make it more interesting by having it with tomato ketchup.
This Recipe Rate :
(0) Reviews