Banana Pancake with Chocolate Sauce Recipe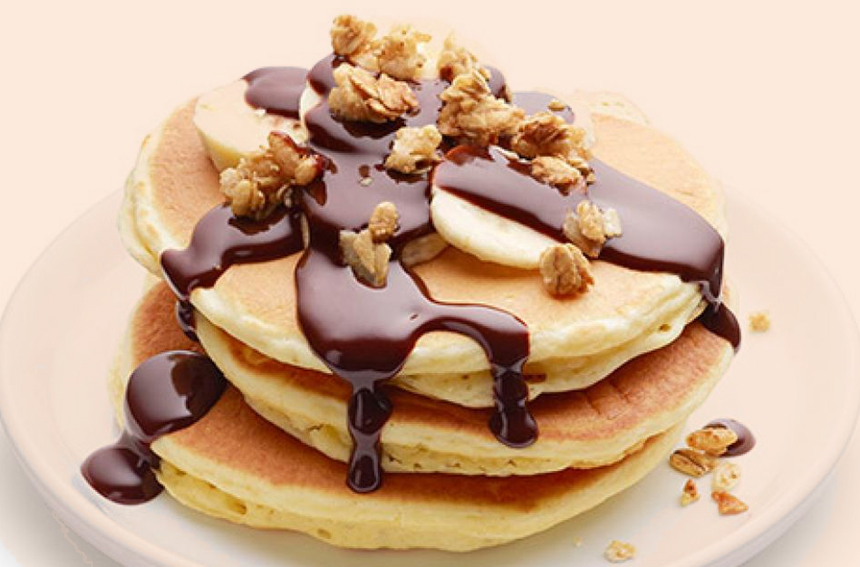 Source: https://www.foodnetwork.com
Banana Pancake with Chocolate Sauce is a filling breakfast recipe that is easy to be prepared even on the busy weekday mornings. Here the pancakes are made with batter the of mashed banana and flour and then drizzle with chocolate sauce. This tempting pancakes are a perfect treat to your kid's and even other family members.Follow this yummy pancake recipe.
Ingredients
For The Pancakes
1/4 cupMashed banana
1/2 cupWhole wheat flour (gehun ka atta)
1 tspButter for greasing and cooking
For The Chocolate Sauce
1/2 cupRoughly chopped chocolate
1/4 cupMilk
For The Garnish
10-12Roasted almond (badam) slivers
Directions
For the chocolate sauce
In a microwave-safe bowl, add the chocolate and milk and microwave on high power for 30 seconds.
Remove it from the oven and mix it well by using a spoon and keep it aside.
For the pancakes
In a bowl, add mashed banana,wheat flour, and 1 cup of water and mix it well by using a whisk.
Heat a non-stick tawa (griddle) and greased it using ¼ tsp of butter, pour ¼ cup of the batter on it and spread in a circular motion to make a thick pancake of 150 mm. (6") diameter.
Cook the pancake on a medium flame by using a ¼ tsp of butter and cook till it turns golden brown in color from both the sides.
Once done, place it on a plate and keep it aside.
How to proceed
Place each pancake on a serving plate and fold into a triangle and pour a little chocolate sauce over each pancake and garnished with almond slivers and serve it with pista ice cream.
Nutrient values per pancake
Energy: 143 cal
Protein: 3.5 g
Carbohydrates: 16.4 g
Fiber: 0.5 g
Fat: 9.3 g
Cholesterol: 0 mg
Vitamin A: 51.6 mg
Vitamin B1: 0.1 mg
Vitamin B2: 0.1 mg
Vitamin B3: 0.8 mg
Vitamin C: 1.1 mg
Folic Acid: 5.8 mg
Calcium: 40.6 mg
Iron: 1.7 mg
Magnesium: 0 mg
Phosphorus: 0 mg
Sodium: 14.5 mg
Potassium: 184.6 mg
Zinc: 0.2 mg
This Recipe Rate :
(0) Reviews