Spring Vegetable soup Recipe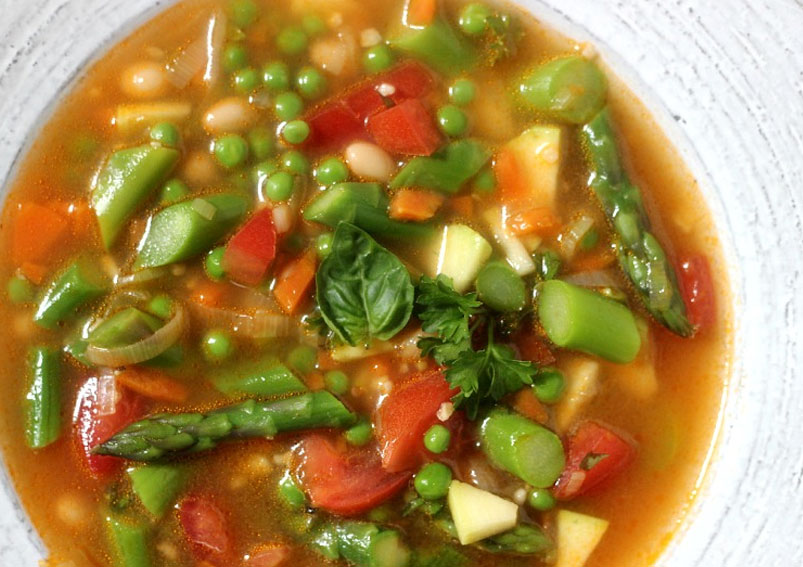 Spring Vegetable soup is perfect soup during winter season and is good for health. You can have it in the evening or lunch. This soup is special enough for entertainment and easy enough to lose weight.
Ingredients
1 tbspOlive oil
2Leek washed and chopped
100gGreen been, cut into lengths
1Courgette, diced
1/2 cupHot vegetable stock
3Ripe tomato
400gCannellini bean
1 nestVernicelli
For the pesto:
25gBasil
1Garlic clove, crushed
25gPistachio nuts
25gVegetarian parmesan
2 tbspOlive oil
Directions
Heat the oil in a pan, add leek and fry until it get softened.
Add green beans and courgette, then pour in the stock.
Cover the pan and simmer for 5 min.
Meanwhile, make the pesto.
Take a pan, add basil, garlic, nuts, Parmesan, oil and 1/2 tsp salt in a food processor, then fry it until it get smooth.
Stir the tomatoes, cannellini beans and vermicelli into the soup pan and simmer for 5 min more until the vegetables are just tender.
if necessary, Reheat the soup, and serve it with the rest of the pesto on top.
The Spring Vegetable soup with basil pesto is rich in vegetables, which contains vitamins and is good for health.
Check for more soups
- Mayuka
This Recipe Rate :
(0) Reviews