How to Make Tasty Broccoli Soup Recipe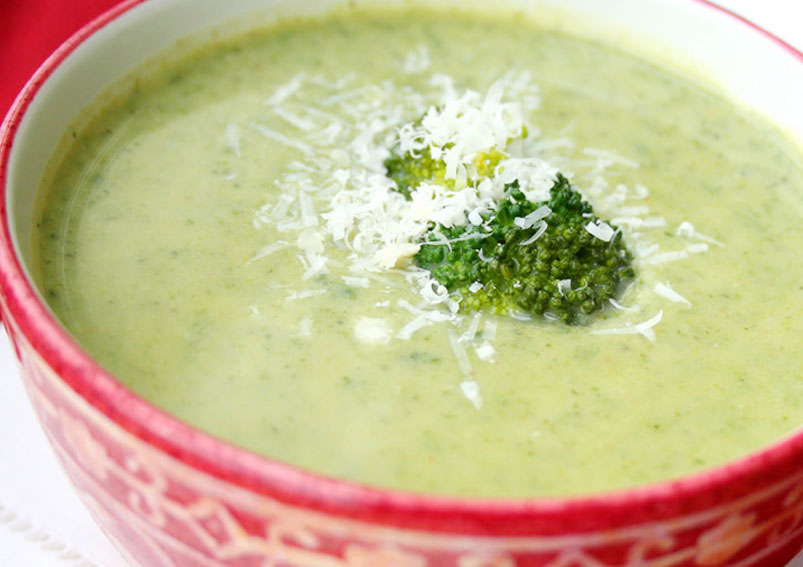 Broccoli belongs to cruciferous vegetable family and is also called a Green cauliflower which are rich in nutrients. Broccoli Soup is tasty with the flavors of garlic and cilantro. People who doesn't like to take in curries or so, they can try with Broccoli Soup.
Ingredients
3 cups (chopped)Broccoli
1 cup (chopped)Potato
1 sprigCilantro
1 cup (chopped)Onion
½ cup (chopped)Capsicum
1 tbspOlive Oil
1 tbspAll Purpose Flour
as per tasteSalt
1 tspPepper Powder
4-5Garlic cloves
½ tspCumin Powder
3-4 tbspFresh Cream
3 cupsWater/Chicken stock/Vegetable stock
Directions
In a pan, heat olive oil or regular oil
Add the onions, garlic, capsicum, potato, cilantro and broccoli.
Saute all the vegetables for couple of minutes.
Add the flour to above mixture.
Fry for another couple of minute.
Add 1 cup of water/Chicken stock/Vegetable stock and cook for about 10 minutes.
Switch off and cool it in a room temperature for 5 minutes.
Blend the above mixture in a blender.
Take the pureed soup back in a vessel.
Add the remaining stock or water and heat it.
Add salt, pepper powder, cumin powder to the stock.
Adjust the consistency according to your taste.
Finally add the fresh cream if wanted, and switch off.
Now, Broccoli soup is ready to be served.
Eating cruciferous vegetables has been associated with a lower risk of cancer; namely lung and colon cancer. It is suggestible to take Broccoli soup to the lower risk of cancer.
- Mayuka
This Recipe Rate :
(0) Reviews