How to Make Sweet Corn Soup Recipe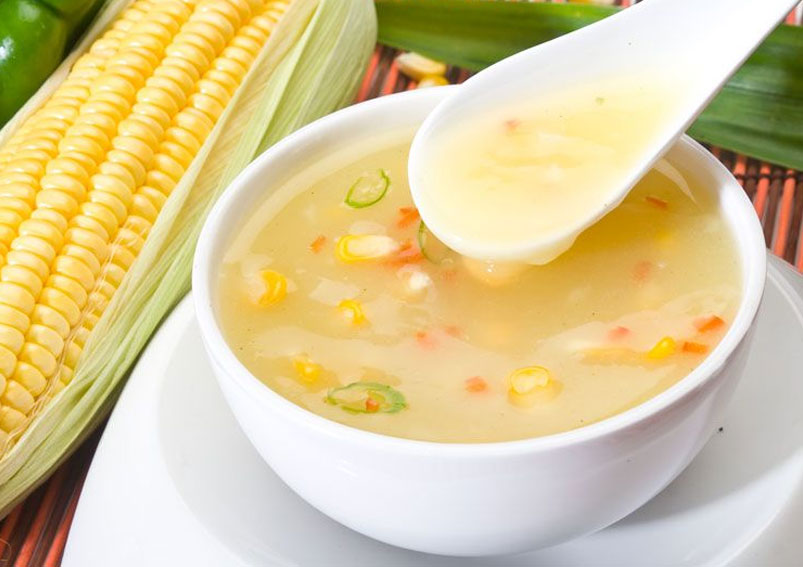 The sweet corn soup is so delicious, that can add any vegetables/ingredients in soup and can make varieties of corn soup. There are variations of sweetcorn soups, Chinese have their style of making sweetcorn soup called yumigeng and also Tibetians cook their own sweetcorn soup called Ashom Tang.
Here comes with a Indian style of Sweet corn recipe, that you can cook and enjoy at home.
Ingredients
1+1/2 cupboiled Sweet corn kernels
1/2 cupCarrot (finely chopped)
1/2 cupGreen Beans (finely chopped)
1/2 cupCauliflower (finely chopped)
1/4 cupSpring onion greens (finely chopped)
1 tbspCorn starch
1 tspWhite pepper powder
1 tbspSugar
4 cupsWater
as per tasteSalt
Directions
Firstly, chop carrot, green beans, cauliflower and spring onion finely.
In boiled water, add chopped carrots and cook for 2 minutes.
After couple of minutes, add green beans and cauliflower.
Cook until the vegetables becomes soft and tender.
Add urad dal after chana dal comes into brown color.
Take 1 cup of boiled sweetcorn kernels and crush it.
In a soup pan with cooked vegetables, add the sweetcorn kernel paste and with whole sweetcorn kernels to the soup and let it simmer for 5 min.
Add a pinch of sugar, salt and white pepper powder if wanted.
Finally, Add chopped greens of spring onion to the soup.
Mix a tsp of corn starch in water and simmer for a minute until it becomes paste.
To the sweetcorn soup add the corn starch water to it and mix it well.
Now, Sweetcorn soup is ready to serve.
A healthy Sweet corn soup is ready to serve. Finally, you can garnish it with some chopped carrot and spring onions for extra flavor.
Corn is a nutritious food provided with fiber, which aids in digestion, folate, thiamin, phosphorus, vitamin C, and magnesium.
[ Check For more soup recipes]
- Mayuka
This Recipe Rate :
(0) Reviews