Lentil Soup Recipe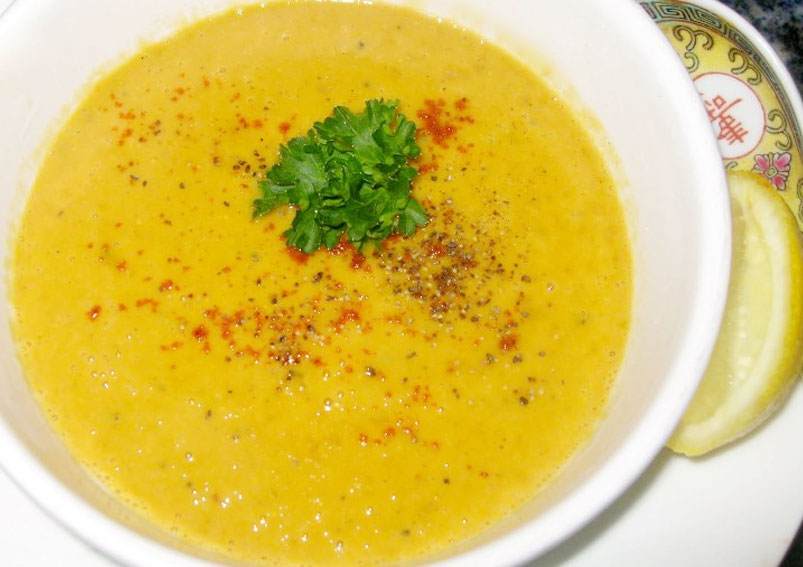 Lentils are healthy and is a perfect vegetarian soup with aromatic vegetables like onion, celery, and carrot and an extra boost of flavor and vitamins.
Lentil soup is simple and easy to prepare with few ingredients.
Ingredients
1/2 cupSplit lentils
1 tspOlive oil
2 tblspOnions (chopped)
2 clovesGarlic
1Green Chilly (finely chopped)
4 cupswater
as per tastesalt
1 tspCumin seeds
1 tspcoriander seeds
1/2 tspPeppercorn
1/4 cupLemon juice
Directions
Roast the cumin seeds, corriander seeds and peppercorn.
By using a pestle/blender crush it finely.
Heat oil in a pan and add onions, garlic and green chilly.
Saute for 10 minutes in a medium heat.
Boil it by adding remaining ingredients except lemon juice.
Cook in a medium heat for 20 minutes until the lentils are cooked.
Puree the mixture in a blender.
Return the pureed mixture back to saucepan and reheat.
If needed add hot water to dilute it.
Stir in lemon juice and serve hot.
Try this healthy soup on a cold winter day or while having a sore throat.

- Mayuka
This Recipe Rate :
(0) Reviews