Rose Milk Recipe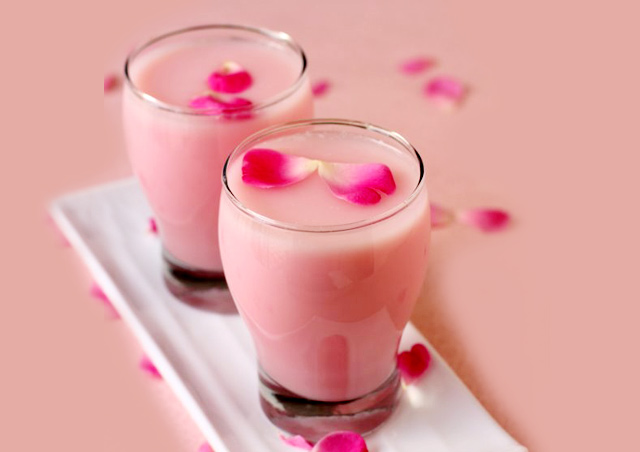 Rose Milk Recipe is very tasty drink. Mostly it is used in the Tamil Nadu state. we can find the more juice stalls in the towns. It is also a healthy drink mostly well used by the womens and childrens.
Let's have a look how to prepare this recipe.
Ingredients
2 1/2 cups Organic pink rose petals
6 1/2cupsWater
4 1/2cupsSugar
3 tbspRose water
2 tbsp Edible red color-Beetroot juice
1 1/2cupChilled milk
1 1/2tbspAlmond paste
2 1/2tbspFresh cream
Directions
Step

1

Wash and Soak the pink rose petals in few cups of water until it is well soaked for 8 hrs. Mix it with red color drops, Beetroot juice and rose water and flame it for 4 mins.

Step

2

Now mix it with sugar and heat it on low flame until the syrup thickens and boils well.

Step

3

Liquid should be completely cooled and strained and store it in a vessel. It also be refrigerated so that we can use it as required.

Step

4

Boil the milk at room temperature for making Rose milk and freeze it until it crystallizes. Please make note that while serving, remove the milk from the freezer.

Step

5

Before serving it, mix the almond paste, three tbsp rose syrup or cream and enjoy the first sip.
This Recipe Rate :
(0) Reviews