Spicy Salmon Fish Curry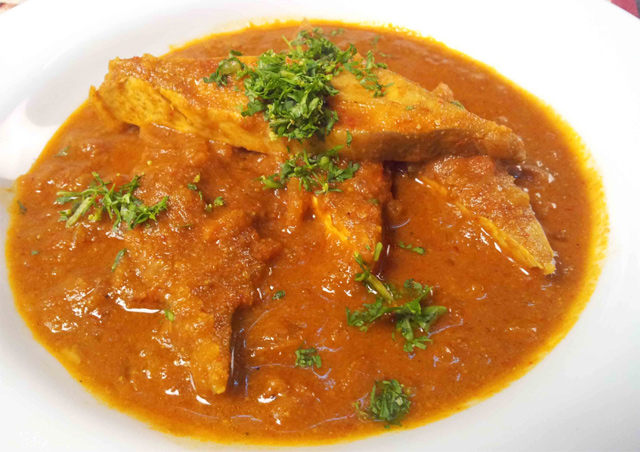 Spicy Salmon Fish Curry is a Non Veg special recipe which is different from Tilapia fish. It is really tasty and easy to prepare.
Let us read how to prepare this Spicy Salmon Fish Curry. For more recipe visit us on http://www.yummyfoodrecipes.com
Ingredients
2 Salmon strips cut into cubes.
2 Onion finely chopped
4 Cloves of garlic finely chopped.
1/2 Cup Tamarind paste
2 1/2tsp Chopped ginger
1/2 Cup Tomato paste
1 tbsp Kuskus powder (gasagasalu)
1 tbsp Turmeric power
1 tbsp Coriander powder
1 tbsp Mustard seeds
Few Curry leaves
1/2 tbsp Cumin seeds
Enough Salt and red chilli powder
Directions
Step

1

Take a flat bottomed vessel. Add 2 table spoon oil and heat it. Add cumin and mustard seeds when the oil is hot and saute till the mustard seeds start popping up.

Step

2

Take the onions, curry leaves, chopped garlic, chopped ginger and fry them till the onions change colour. Remove the heat and let it become cool once, grind nicely to a paste.

Step

3

Put back on heat, add all the remaining ingredients tomato paste, tamarind paste, turmeric powder, coriander powder, kuskus powder and sufficient red chilli power and salt to taste to it.

Step

4

Add 1 glass of water and mix thoroughly. On a medium flame boil for 5 mins with lid covered. Add the fish cubes to the gravy and let it cook for 15-20 mins on very low flame meanwhile fish cubes absorbs the spices and the gravy ges nice fish flavor. Off the flame when its done.

Note

1

The skillet/pan should be wide for making fish curry fish is very delicate so if it is wide skillet we can place the fish freely with out placing one upon the other.

Note

2

Better if we don't use spoon after adding fish pieces keep the flame in very low so that the gravy wont stick to base carefully hold the handles of skillet rotate it slowly so that the gravy gets mixed if we use spoon the fish may break.. this way is best.
This Recipe Rate :
(0) Reviews