Potato and Mushroom Stir Fry Recipe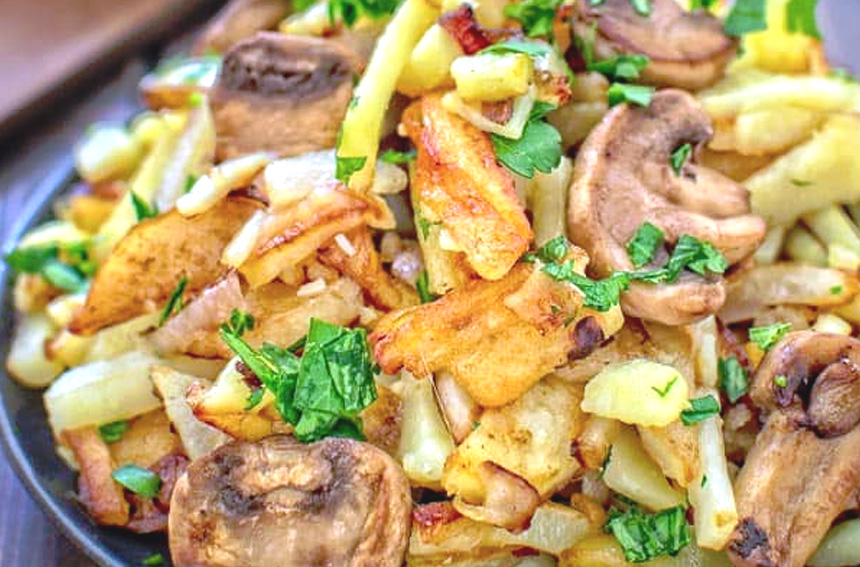 Source: https://cooktoria.com
Potato and Mushroom Stir Fry is a healthy stir fry dish which has an interesting combination of Potato and Mushroom. This dish is very easy and quick to make and it is also very colorful and attractive. This dish has a soft texture, crunchy taste, and nice flavor. Try this easy stir fry recipe at your home.
Ingredients
2Large potatoes
1/2 cupThinly sliced spring onion whites
1/2 cupCapsicum slices
1/2 cupSliced mushrooms (khumbh)
1 tspGinger-garlic (adrak-lehsun) paste
1 tspSoya sauce
1 tspVegetarian oyster sauce
2 tbspTomato ketchup
1 tspChili sauce
3 tbspOil
Saltand pepper to taste
1/2 cupFinely chopped spring onion greens for the garnish
Directions
Cook the potatoes in a vesselful of water till they are 80% cooked and then cut the cooked potatoes into fingers shape.
Heat the oil in a wok on a high flame till they are golden brown and add the potato fingers and cook on a high flame for a few minutes.
Heat the oil in a wok again, add the ginger-garlic paste and spring onion whites and fry for 1 minute.
Add the capsicum, mushrooms and potatoes and fry for 1 minute and add the soya sauce, oyster sauce, ketchup, chili sauce, salt and pepper and mix it lightly so that all the vegetables are coated with the sauces.
Once done, switch off the flame and garnish with spring onion greens and serve it hot with rice.
Nutrient values per serving
Energy: 159 cal
Protein: 1.5 g
Carbohydrates: 13 g
Fiber: 1.7 g
Fat: 11.4 g
Cholesterol: 0 mg
Vitamin A: 249.5 mg
Vitamin B1: 0.2 mg
Vitamin B2: 0.1 mg
Vitamin B3: 0.9 mg
Vitamin C: 37.9 mg
Folic Acid: 14.4 mg
Calcium: 19.8 mg
Iron: 0.8 mg
Magnesium: 0 mg
Phosphorus: 0 mg
Sodium: 92.9 mg
Potassium: 200.3 mg
Zinc: 0.4 mg
This Recipe Rate :
(0) Reviews