Delicious Vegetable Fried Rice Recipe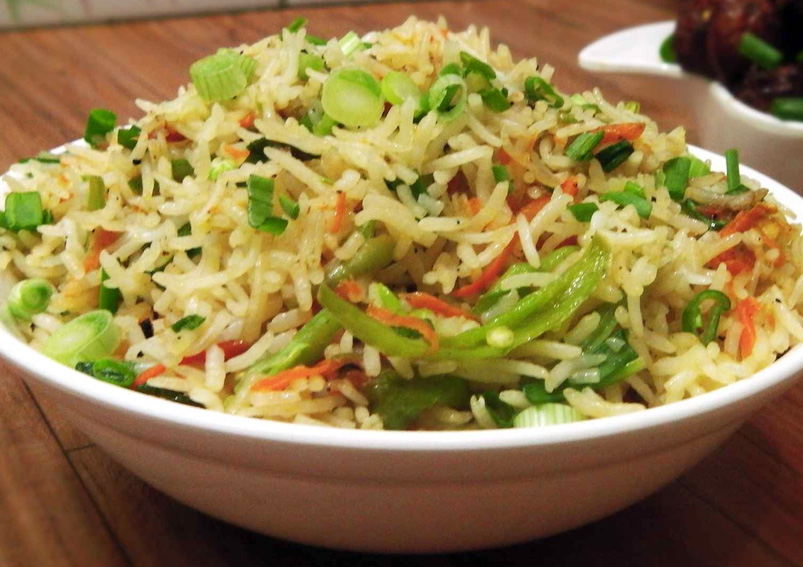 Healthy Vegetable Fried Rice is something an easy recipe where you can prepare within no time. The advantage of preparing the recipe is that you can prepare by adding the required stuff in it. Have a look at the recipe and try it for your family members.
Ingredients
1 CupNormal rice or basmati rice
OilFor Cooking
¼ cupBeans chopped
¼ cupCarrot chopped
1 cupCabbage
2 tbspSpring onions
¼ cupCapsicum
2 tbspOlive oil
2 tbspGinger garlic paste
1 tbspVinegar
2 tspSoya Sauce
SaltTo Taste
1 PinchPepper
Directions
Soak rice in water for about 15 minutes
Cook the rice by adding 1 ½ cup of water and 1 tablespoon of oil
Once the rice is cooked, fluff with a fork and place it on a plate.
Take a pan and add oil to it
Heat the oil on a low flame and add ginger garlic paste
Saute it for few seconds and add chopped beans
Fry them for 1 minute and add chopped carrot pieces to it
Fry them for 1 more minute and add chopped cabbage, capsicum, spring onions to this
Fry the ingredients till they become tender and crunchy
Add salt to the vegetables and add rice to it
Stir them well
Add soya sauce, vinegar, pepper powder and mix them well
Add salt if required. Off the flame and close the lid for 5 minutes
Chopping vegetables finely is very important as the tastes depends on the vegetables pieces you add. Add soya sauce based on your requirement. If you want the dish to be more delicious, add finely chopped mushrooms along with the other ingredients.
This Recipe Rate :
(0) Reviews