Tasty Karnataka Chitrana Rice Recipe
Kannada Chitrana Rice Recipe is one of the popular rice recipes of Karnataka that is prepared using powdered spices. This dish is considered to be a complete protein filled rice with many ingredients added to it. Have a look at the Chitrana Rice Recipe and follow the steps one after the other.
Ingredients
1 ½cup rice
3 tablespoonspeanuts
3 tablespoonssesame seeds
1 tablespoonsplit Bengal gram
½ spoonmustard seeds
3whole dry red chilies
5curry leaves
¼ tablespoonasafetida / hing
2 tablespoonsgrated coconut (fresh)
3 tablespoonstamarind pulp
2 tablespoonsmalagapdi powder
¼ tablespoonturmeric powder
2 tablespoonsghee
Saltto taste
Magalpadi Powder Ingredients:
2 tablespoonscoriander seeds
1 ½ tablespoonscumin seeds
2 tablespoonsplit Bengal gram
2 tablespoonssplit black lentils
2 tablespoonssesame seeds
12whole dry red chilies
1 tablespoonasafetida
Saltto taste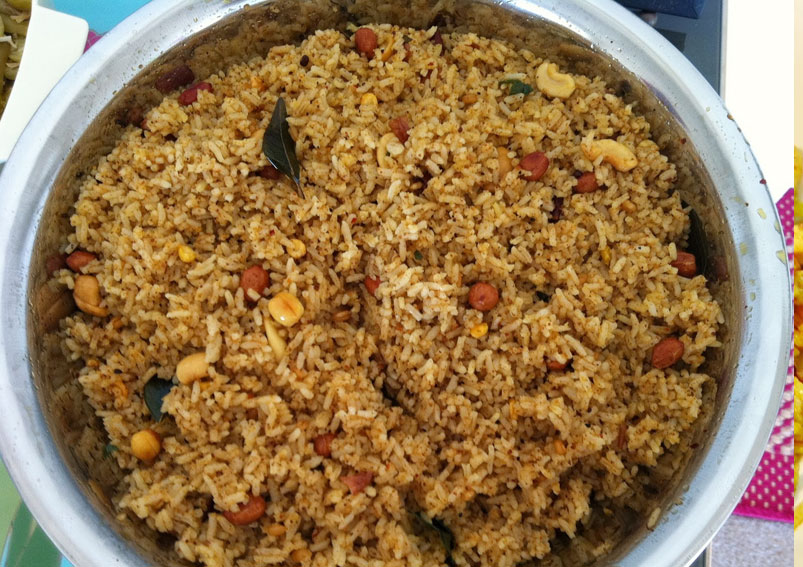 Directions
Roast all the ingredients in a pan
Take a blender and blend it till it turns to a soft powder
Store the powder in an airtight container for future use.
Wash the rice and soak it in water for about 15 minutes
Cook the rice till each grain of the cooked rice should be separate
Cool it for sometime
Take a pan and roast the peanuts and sesame seeds separately
Powder them coarsely and keep aside
Heat ghee in the same pan and add mustard seeds, Bengal gram and roast it for 1 minute
Add dry chilies and curry leaves to it
After sauting them, add asafetida and cook for ½ second
Finally add the cooked rice to it, grated coconut, tamarind pulp, turmeric powder, malagapadi powder, roasted peanuts, sesame seeds and salt to it
Cook them for 5 minutes in the same pan and mix them well
Serve it hot to your guest.
This dish is easy to prepare and is excellent in taste. You can prepare this recipe during your breakfast. Rice is never the worst option in the morning as it is contains carbohydrates. Find out the facts about taking rice as your breakfast.
This Recipe Rate :
(0) Reviews