Karnataka Special Neer Dosa Recipes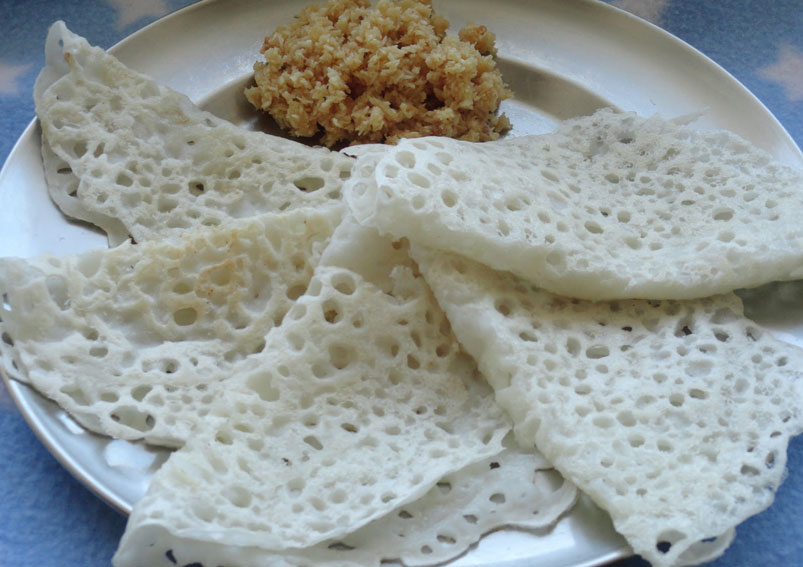 Learn how to prepare Neer Dosa by following easy preparation process. This batter is prepared with purely rice and coconut unlike other dosa batter. Try this recipe and have it for breakfast along with egg curry.
Ingredients
2 cupsRaw Rice
1 cupGrated coconut
Salt totaste
Oil to grease the pan
Directions
Soak rice in water at least for 3 hours and drain the water
Grind the soaked rice along with grated coconut
Add salt to it and make a smooth batter by adding water at times
Transfer the batter in a bowl and add water if required. Make sure that the batter has a very thin coating at the back of the spoon and not a thick coating
Check for salt levels and add if required
The batter is now ready to prepare dosa
Place a pan on high flame and let it become hot
Reduce the flame to low and then pour the dosa batter on hot pan and let it spread itseld creating holes
Before placing the dosa batter on the hot pan, make sure that the pan is greased with oil
The neer dosa cooks very quickly. When you find that the top of dosa is no longer raw, then the dosa is cooked
Slide a flat spatula from the sides of the pan fold the dosa into half
Place the dosa on a serving plate and continue to make another dosa in the same way.
Serve the Karnataka Neer Dosa along with manoli curry or even with Egg Curry. Make sure to place the dosa's away from each other so that they do not stick with one another. You can place on upon the other after they get cool.
This Recipe Rate :
(0) Reviews