Tasty Whole Wheat Pizza Recipe at Home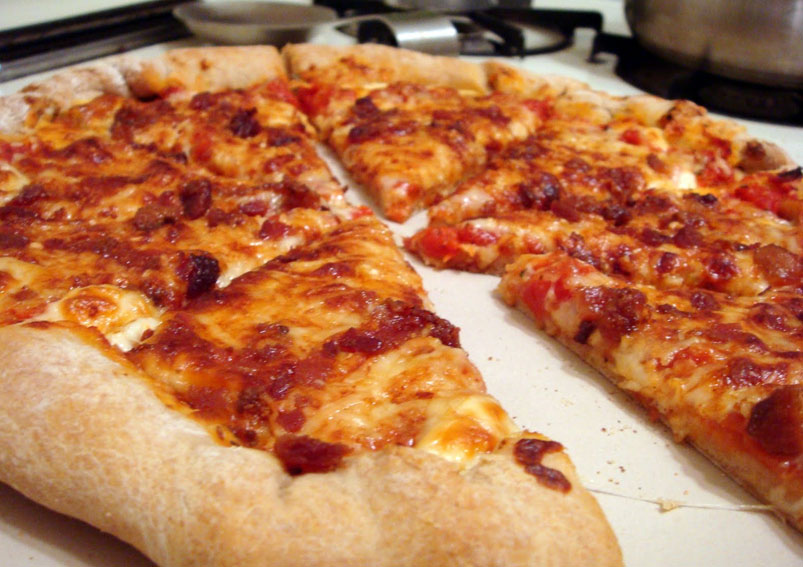 Try out tasty and delicious homemade veg Pizza Recipe that is layered with herbed tomato sauce and toppings makes the recipe tastier. Look at Pizza preparation process in step by step method.
Ingredients
2 ½ cupsAll purpose flour
½ cupWhole wheat flour
2 packagesQuick rise yeast
1 teaspoonGarlic powder
1 cupWarm water
2 tablespoonsOlive oil
1 canDiced tomatoes
1 tablespoonMinced fresh parsley
1 ½ teaspoonSugar
1 ½ teaspoonItalian seasoning
1 ½ teaspoonDried basil
¼ teaspoonPepper
1 cupChopped zucchini
1 cupFresh mushrooms
¼ cupChopped onions, green and red pepper
1 ¼ cupMozzarella cheese
Directions
Take a large bowl and combine all purpose flour, wheat flour, quick rise yeast, garlic powder and salt
Add water and oil to it
Mix them well and knead until smooth or elastic
Place it in a greased bowl and cover it with a plate
Place it aside for about 30 minutes
Take a sauce pan and bring all the sauce ingredients like diced tomatoes, minced parsley, sugar, Italian seasoning, dried basil, garlic powder, pepper to boil on low flame
Stir them occasionally and set aside
Divide the dough into 4 equal parts and roll each portion into 12 inch circle
Transfer the raw pizzas to pan and fry it using oil till golden brown
In a small skillet add chopped vegetables and saute them till they become tender
Spread the pizzas with sauce and sprinkle the fried vegetables on it along with cheese
Heat the pizza on low flame again for about 5 minutes until the cheese is melted.
The hot and tasty pizza without using oven is ready to taste. Have it after 5 minutes.
The trick here for a tasty pizza is to knead the dough very well. If you can get this well, then you will definitely have a nice soft pizza base and make sure that the water you use for mixing should be hot. Know the Benefits of Vegetable.
This Recipe Rate :
(0) Reviews