Yummy and Easy Sambar Rice Recipe South Indian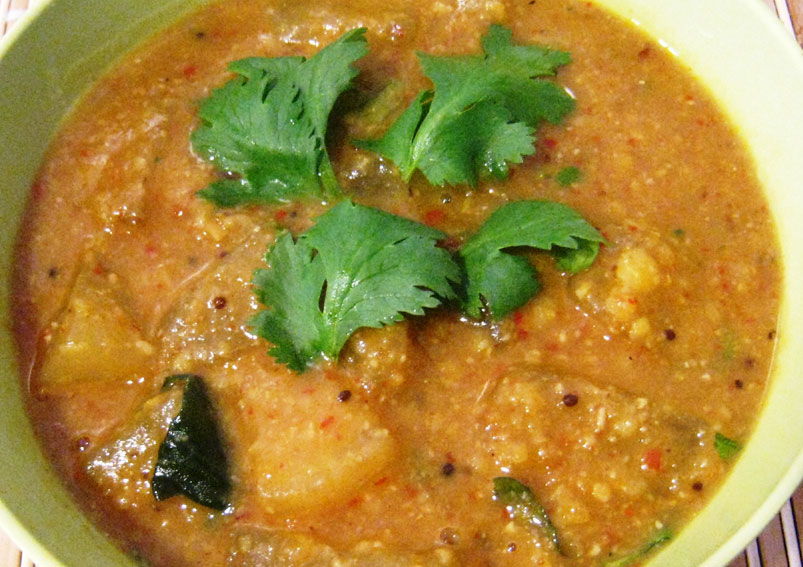 Are you a great fan of rice dish? Just have a look at the easy step-by-step preparation process of Sambar Rice and have it hot on a sizzling rainy day.
Ingredients
2 cupsrice
1 cupsplit red gram
¼ spoonturmeric Powder
5 cupswater
Lemon sizetamarind
6Onions
1Tomatoes
2green chilies
¼ cuppotato cubes
1big eggplant
¼ cupFrench beans
1drumstick
3 tablespoonssambar powder
2 tablespoonsoil
2 tablespoonsghee
½ tablespooncumin seeds
½ tablespoonfenugreek seeds
½ tablespoonmustard seeds
10curry leaves
2 tablespoonscoriander leaves
Saltto taste
Directions
Clean rice and boil it in 5 cups of water
Clean slit red gram and boil it in pressure cooker
ake a skillet and add oil to it
Add fenugreek seeds, cumin seeds, curry leaves and saute them for a minute
Add onions and fry them for 1 minute
Then add tomatoes, green chilies, potatoes, brinjal, French beans, drumstick and fry them for 3 minutes
Add ¾ cup of water and boil the veggies
Add the cooked veggies along with sambar powder and tamarind water to the cooked rice
Cook them on a medium flame for about 7 minutes
Add ghee and stir well before serving
Off the flame and add coriander leaves at the end
Remove the rice in a serving bowl and serve it hot if you have invited any guest.
Any number of veggies can be added to the rice and you can cook them along with split gram, rice. Sambar is the one among the most common dishes for Indian especially for people in South. Know the Health Benefits of Sambar.
This Recipe Rate :
(0) Reviews