South Indian Special Puliyogare Recipe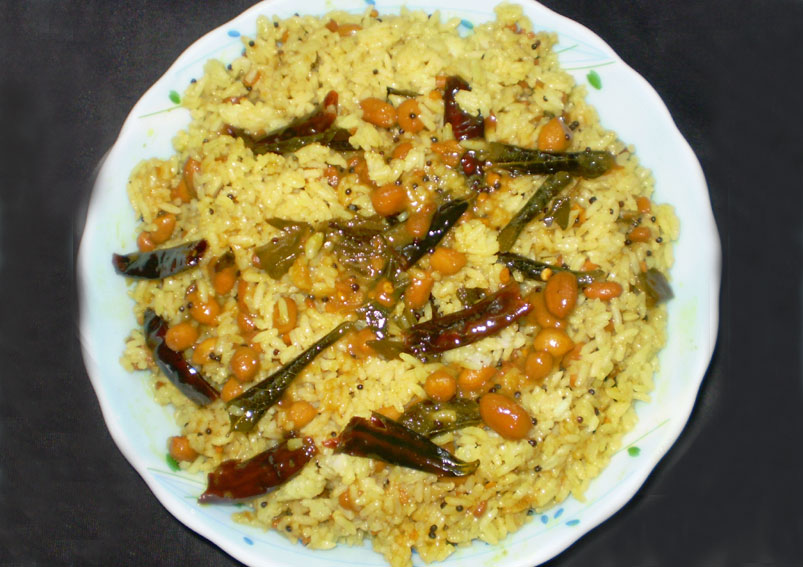 Traditional Puliyogare is a very famous vegetarian recipe in South India and is generally prepared on most of the festivals. This recipe not only considered as "prasadam" in most of the temples but also as a main dish in many occasions. It is simple to prepare and is tasty with fragrant spices.
Ingredients
1 ½ cupRaw rice
70gmsTamarind
50mlOil
1 teaspoonFenugreek seeds
1 teaspoonWhite sesame seeds
2 teaspoonsCoriander seeds
5Red chilies
1 teaspoonMustard
4 teaspoonsUrad dal
4 teaspoonsChana dal
4Red chilies
1 teaspoonTurmeric powder
100gmsRoasted peanuts
10 leavesCurry leaves
Directions
Dry roast fenugreek seeds, coriander seeds and red chilies. Powder them together
Roast sesame seeds and grind them separately
The spice powder for puliyogare is ready
Cook rice separately and keep it aside
Soak tamarind in hot water and extract 2 cups of juice from it
Heat oil and add mustard seeds, urad dal, chana dal, red chilies
Saute them well and add a pinch of turmeric powder and curry leaves at the end
Off the flame and add the tamarind paste to it
Spread the rice on a plate and add 2 teaspoons of oil to it
Add ½ teaspoon of turmeric powder and mix them gently without breaking the rice
Once it is cool, add the spice powder, tamarind paste and mix them gently
Adjust the spice powder along with tamarind powder if required
Delicious Tamarind Rice is ready to serve.
It is called with different names like Puliyodarai, Pulihora, etc and the preparation process everywhere is the same. The spicy ground masala brings excellent taste to it.
-Neelima
This Recipe Rate :
(0) Reviews