Healthy Spinach Kofta Curry Recipe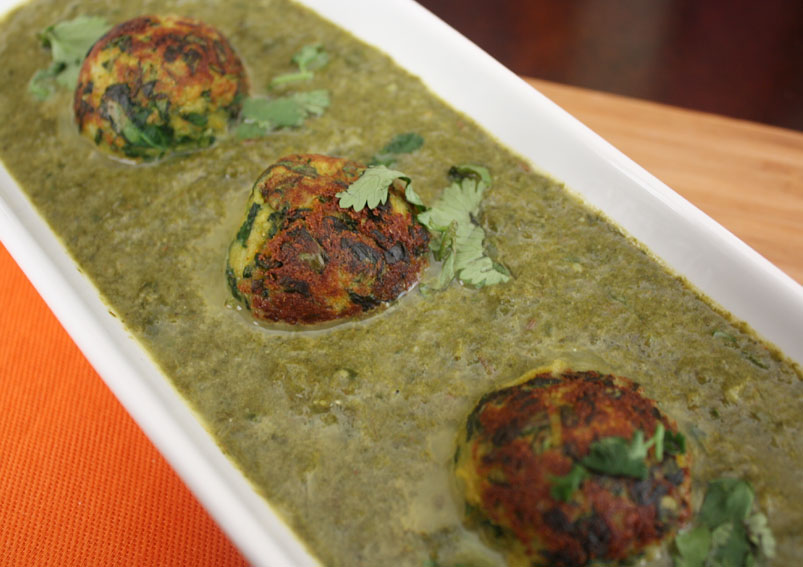 Palak Kofta is a delicious Indian Vegetarian Recipe that tastes good with rotis. It is extremely delicious and easy to make dish at home. Have a look at the recipe.
Ingredients
1 cupApples
1 cupPalak leaves
fewMashed boiled potatoes
2 tablespoonsCashew nuts chopped
1 tablespoonGrated paneer
½ teaspoonCoriander leaves
½ teaspoonJeera powder
2Green chilies
1 inchGinger
1 tablespoonMaida
Oil
For gravy:
2 bunchesPalak
2Onions
2Tomatoes
2 tablespoonsCashew nut paste
1 teaspoonGinger garlic paste
½ teaspoonGaram masala powder
1 teaspoonCumin seeds
1 teaspoonRed chili powder
2 teaspoonsFenugreek leaves
2 tablespoonsButter
Saltto taste
¼ cupCream
Directions
Take a large mixing bowl and add chopped palak leaves, mashed potatoes, chopped cashew nuts, grated paneer, coriander leaves, jeera powder, green chilies, grated ginger, Maida, salt
Mix all the ingredients well. Add water if required and prepare a smooth dough
Roll them in corn flour and prepare 3 round balls
Place them in oil and fry them till they turn golden brown in color
Remove them from oil and keep them aside
Clean the spinach and boil it in little water
Add salt to it and pinch of sugar so that we can maintain the same green color to the leaves
Drain the excess water after boiling and make it to a fine paste
Place on flame and add butter along with 1 spoon of oil to it
Add cumin seeds and let it splutter for a while
Add onions, ginger garlic paste and fry till they become golden brown in color
Add pureed tomatoes and cook till oil get separated
Add palak puree and cashew nut paste to the tomato mixture
Mix them well. Add salt, red chili powder, garam masala powder and let it boil for a while
Add cream and crushed fenugreek leaves
Mix them well and add koftas at the end
Cook on low flame for about 2 minutes so that koftas will absorb the flavor of the gravy
Off the flame and remove the gravy to a serving bowl.
Serve it hot with Tandoori Roti
-Neelima
This Recipe Rate :
(0) Reviews