Onam Sadya Kerala Mambazha Pulissery Recipe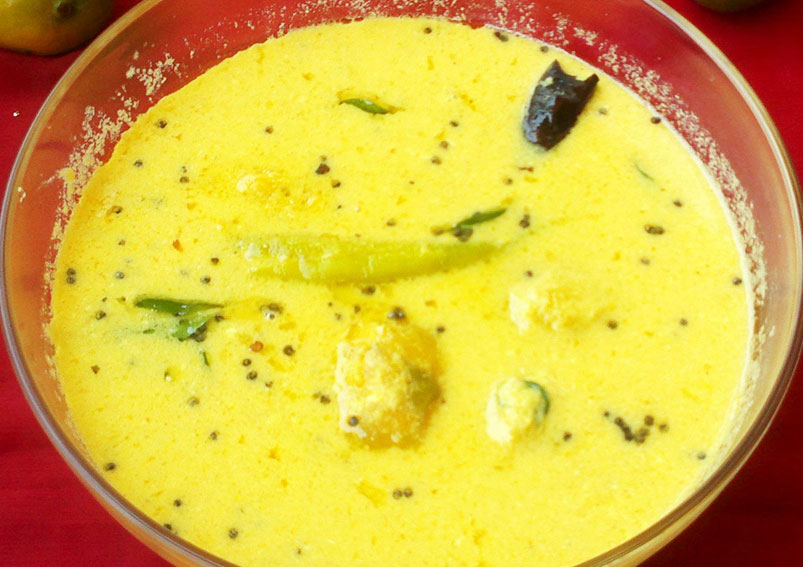 Pulissery is one of the typical Kerala Sadya that is served at the end of the meal. It is a spiced buttermilk curry with coconut base added with grounded spices. Have a quick look and try it for your meal this Sunday.
Ingredients
1Ripe mango
1 cupWhite pumpkin or yellow cucumber
¼ teaspoonTurmeric powder
½ teaspoonChili powder
1 cupYogurt
½ cupGrated coconut
½ teaspoonCumin seeds
2Green chili
1 teaspoonCoconut oil
1 teaspoonMustard seeds
½ teaspoonFenugreek seeds
2Red chili
5 leavesCurry leaves
Directions
Grind Grated coconut, cumin seeds and green chilies to fine paste
Place it aside
Cook mangoes in pan by adding turmeric powder, chili powder and salt
Cook pumpkin separately with salt
Combine both pumpkin and mangoes
Lower the heat and add yogurt to the mixture
Boil it for 3 to 4 minutes
Add the grounded paste and boil for few more seconds
Add salt if required
Place a pan and add oil to it
Once the oil gets hot, add mustard seeds, fenugreek seeds, red chili, curry leaves
Let them splutter for few seconds and add over pulissery
The tasty pulissery is ready to serve. Serve it with hot rice. Have it with Banana Chips as side dish.
You can use any oil for seasoning. But Coconut Oil gives you the authentic flavor of Kerala to the dish.
-Neelima
This Recipe Rate :
(0) Reviews